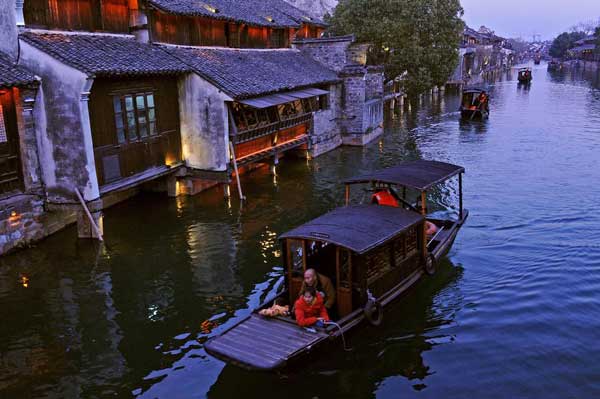 Tourists visit Wuzhen, Zhejiang province on a boat on Jan 2. [Photo/Xinhua]
Ancient water towns in Southeast China's Yangtze River region are to jointly apply for world heritage listing, according to China's 13th Five Year Plan.
Among the 13 towns four are in East China's Zhejiang province, including Xitang and Wuzhen, eight are in Jiangsu province, including Zhouzhuang, and one in Hunan province.
Preparations will be complete by the end of next year and the application process is due to be completed by 2017.
The World Heritage Committee has previously shown interest in ancient water towns and in 2001 six were recognized by UNESCO.
"Preservation and exploration of Wuzhen has been carried out consistently, and 100 million yuan ($16.14 million) has been invested," said Lu Yaqin, deputy director of the Wuzhen Management Committee of International Tourism Sector.
Lu said 21 pipelines, including telephone lines, water pipes, network cable and drainage have been buried, ensuring an intact and original appeal for the town.
New landscaping is also included among the application items."The Wuzhen theatre, venue for the World Internet Conference, is also part of the preservation plan," Lu said.
In the application process for listing, "we should really try to take care of the interests and benefits of residences, and take into consideration the uneven development among the 13 towns," said He Yunao, director of Nanjing University's Institute of Culture and Natural Heritage.
He said the project should never be driven by commercial profit as it is no good for the preservation and development of the towns.
"Keeping the historical appeal and rich cultural heritage of the towns are keys to a successful application," he said.