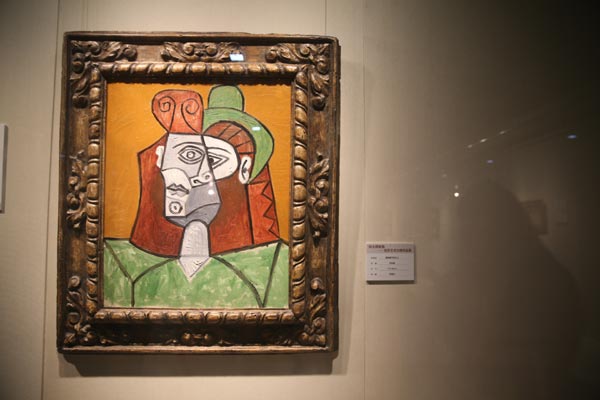 Works by Picasso (above) and Renoir were on display at last year's Nanjing International Art Festival. Photo provided to China Daily
About 20 works from Pablo Picasso, all owned by a Chinese collector, will be shown to the public at the Nanjing International Art Festival in September.
Together with Picasso's works, pieces by other artists including Rodin, Monet, Renoir and Gauguin will also be shown in the section, Works of International Masters, at the art festival.
Nearly 60 pieces in total will be exhibited in this section, part of a private collection of Yan Lugen, who started collecting works of Western masters in the 1990s.
"It's very rare and difficult for a private collector to show his collection in China because of tax and security issues," says Zhu Tong, curator of the art festival.
This is the second edition of the art festival, which is being organized by Yan and his Nanjing-based real estate company Lekyuen Group, aiming to "build a high-quality art fair using private funds in China".
Zhu says that other than the section on international masters, the festival will have three parts: International Contemporary Art, Experimental Ink and Nominated Works of the Young Artists.
The nominations are open to artists and aspiring artists worldwide and must be submitted by the end of June.
Last year, the art festival had received works from about 4,500 artists in 20 countries. It attracted more than 200,000 visitors within one week of opening in October. The peak for visitors on a single day was 60,000.
Last year, seven pieces by Picasso were on display. This year, there will be 20 by the Spanish master.
Unlike Beijing and Shanghai where large-scale shows of foreign artists-both living and dead-are often staged, Nanjing, about 300 kilometers from Shanghai, has rarely seen a high-profile art event.