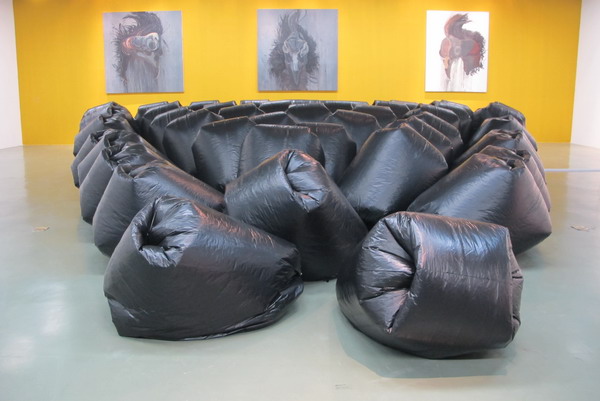 One of the works on display at Yishu 8, created by Wang Enlai, from CAFA's Sculpture Department.[Photo by Wen Yi/chinadaily.com.cn]
The 3rd Yishu 8 Young Artist Award ceremony was held on March 27. Two student artists from the Central Academy of Fine Arts (CAFA), Fu Xiaojie and Wang Enlai, were announced as the winners. The award forum and the inauguration of the Yishu 8 group exhibition were also held at Yishu 8 that afternoon.
CAFA vice president and artist Su Xinping, director of CAFA's Sculpture Department and artist Sui Jianguo, CAFA professor of School of Design Ma Gang, art critic Huang Du, professor of the École Nationale Supérieure des Beaux-Arts de Paris (ENSBA) and artist Tony Brown and Yishu 8 founder Christine Cayol participated in the forum. The executive editor of LEAP magazine, Cao Dan, acted as the moderator.
The 14 student artists were selected as finalists from the group of applicants, more than 40 works in total, by a jury for the Yishu 8 group exhibition. The two award winners chosen from the 14 will be provided with studio spaces in Beijing and residency in Paris, as well as a solo exhibition at Yishu 8.
Wang, a postgraduate in CAFA's Sculpture Department, won the award for his installation work, Wave.  According to Wang, when he learned Yishu 8's history through the staff there, one photo inspired him. It revealed that the place his work was lying used to be a lecture theatre nearly 100 years ago. Explaining his artwork, Wang said,"the students embraced their dreams and walked out of the classroom. Thus I made a wave-like work that embodies energy transfer. When we stand in front of it, we can be aroused to think whether we are the wave rider of our time."