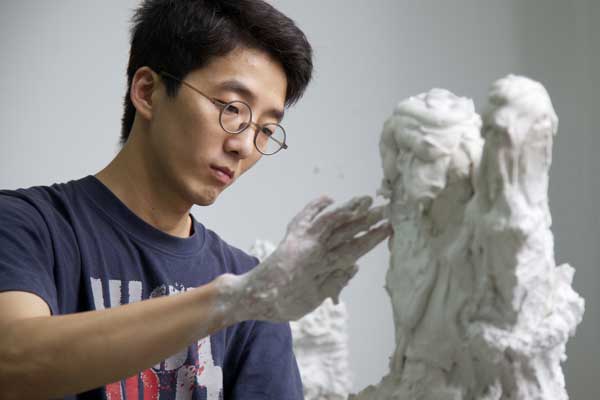 The young sculptor Ou Ming at work in the studio. [Photo provided to chinadaily.com.cn]
Ou Ming, one of this year's Yishu 8 award winners, is exhibiting his creations after a two-month stay at Yishu 8. The theme of the exhibition is "Mental Efforts," which reflects Ou's process of creation.
Ou Ming thinks the production of each art piece is a thorough conversation with himself, which not only involves physical effort, but mental effort as well.
Sui Jianguo, a director at the China Central Academy of Fine Arts, says, "Ou Ming's art presents his inner feelings; from each piece, we can feel his mental efforts in creating the pieces."
According to Ou Ming, he usually starts his creation without any specific purpose, and in the process of playing with plaster, he spontaneously shapes his work. "I don't have any specific aim when I'm creating, but in the end, the piece that comes from my hands is the reflection of my inner feelings," Ou says.
So whenever Ou Ming is asked what he wants to say through his work, he never has an answer. "Actually, I myself do not know either. I am still exploring my path and my work just shows my search process."
As a sculptor, Ou prefers to work with plaster rather than metal or marble. "Plaster is a kind of unique and magical material; it is fragile and its shaping process is unpredictable, which always surprises me."
One of the works on display, Tower of Babel best expresses his freestyle creative process. At first, he just piles pieces of plaster up casually, and then the pieces form various shapes as gravity takes hold, which inspires Ou Ming. "The plaster pieces, originally irrelevant, interact with each other through my work and finally a tower emerges," he says.
According to the story of Tower of Babel in ancient Greek mythology, humans at that time spoke only one language and communicated well, so they built the tower straight to the heaven very quickly. When they were almost finished, their god became scared and as a result made people speak different languages, thus numerous obstacles arose due to communication problems. However, the tower was finally created through the collective efforts of humans.
Ou Ming named this art piece Babel Tower as the piece is shaped like a tower. It shows Ou's inward communication with his art and the outside world.
Ou Ming is a postgraduate from CAFA and specializes in sculpting, and won this year's award with Ju Ting, also a CAFA postgraduate. They received the opportunity to work at the Yishu 8 studio for 2 months and then hold their own solo exhibitions, along with receiving a cash prize from the Hermes Foundation.
If you go:
Yishu 8, Former Sino-French University, NO 20 (jia), Dong Huangchenggen Bei Jie, Dongcheng district, Beijing
+86 (10) 6581 9058
From Oct 24 to Nov 14