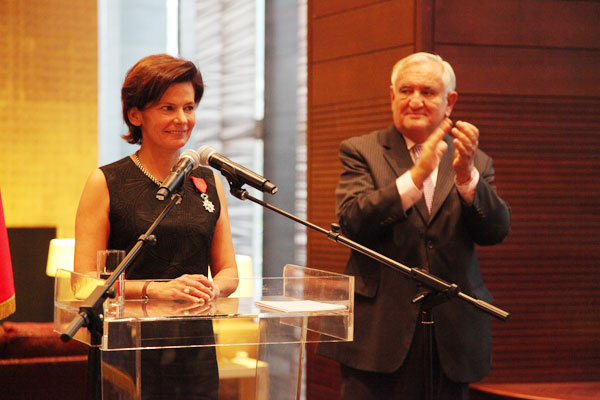 Christine Cayol (L), founder of Yishu 8, was awarded the Knight Badge in French embassy, Beijing, October 20, 2013. [Photo provided to chinadaily.com.cn]
Christine Cayol, who has dedicated herself to creating cultural exchanges between China and France, was awarded the Knight Badge by the French government in Beijing on Sunday.
As a French philosopher and writer, Cayol came to China in 2004, and since then she has immersed herself in the study of Chinese culture and Sino-France cultural communications.
According to Cayol, "Culture is a kind of art that makes people more open, more sensitive and friendlier."
She founded Beijing Yishu 8 in 2009, which serves as a platform for the Chinese to acquire European culture through art exhibitions and lectures. Since it was established, Yishu 8 has exhibited high-quality work from Western artists. The Yishu 8 award was also established to encourage the work of young budding artists both in France and China.
Prior to establishing Yishu 8, she was a professor at the Central Academy of Fine Arts, and established an agency providing counseling and training services for international businesses.
Cayol has also written several books based on her thoughts on the human mind and art. One of her books, Look is a kind of Art, introduced a different way for readers to enjoy 10 famous oil paintings from the West.
The Knight Badge is a national medal of honor in France presented to French citizens who have made great contributions to the nation, as well as foreigners who have done an excellent job in creating exchanges between France and other countries. In June of this year, Chinese actors Zhang Ziyi and Liu Ye were also awarded the prestigious badge.