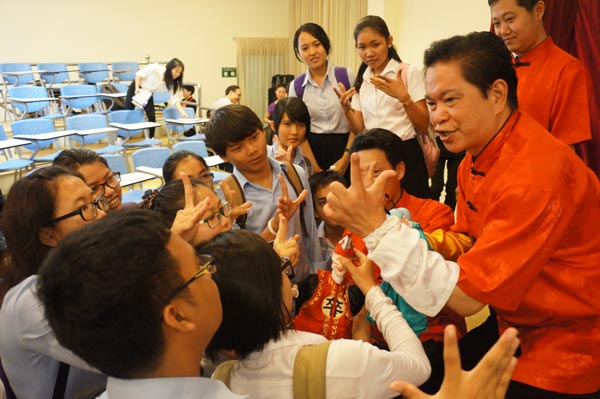 Veteran puppet performer Hong Huijun (right) demonstrates how he works with puppets. Photo provided to China Daily
A training program on Fujian puppet shows was held earlier this month in Phnom Penh, capital of Cambodia.
The event was organized by Asia-Pacific International Training Center on Intangible Cultural Heritage of UNESCO, which is based in Beijing.
Eight intangible cultural heritage inheritors from eastern China's Fujian province, took the shows to local audiences, gave lectures in colleges and exchanged ideas with Cambodian performers.
The protection of Fujian puppet play was put on UNESCO's intangible cultural heritage preservation list in 2012. The recent program was held to promote communication in relevant fields between China and Cambodia, and share China's success story in protecting the folk tradition.
Related:
Ancient bricks and tiles exhibited in Xi'an