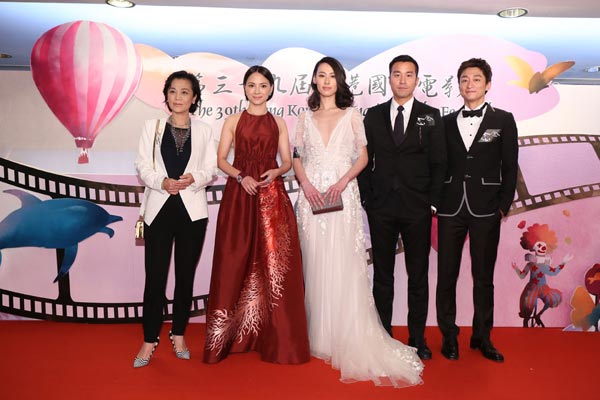 Sylvia Chang (left), director of Murmur of the Hearts which opened the 39th Hong Kong International Film Festival, attends the opening ceremony with actresses Angelica Lee (second to the left) and Isabella Leung (center), actors Joseph Chang (second to the right) and Lawrence Ko (right). [Photo/CRIENGLISH.com]
Hong Kong International Film Festival opened with the premiere of "Murmur of the Hearts", directed by director and actress Sylvia Chang.
The two-week event will see more than 250 films screened throughout the city, representing some 50 different countries and regions.
Festival ambassador Louis Koo, as well as actress Isabella Leung, actor Joseph Chang and actress Angelica Lee were among the guests who attended the opening ceremony.
"As one of Asia's oldest and largest film festivals, the Hong Kong International Film Festival is widely recognized for promoting film culture to local and international audiences by showcasing the latest work and classics of cinema every year," Hong Kong International Film Festival Chair Wilfred Wong said.
Hong Kong Commerce and Economic development secretary Gregory So says Hong Kong has a lot to offer to the film industry.
"On top of good actors, Hong Kong also has everything from filming to post-production, as well as advanced technology and services. The unique landscape, rich traditional culture, and the diversity of lifestyles, have all contributed to Hong Kong to be an ideal city to shoot movies."