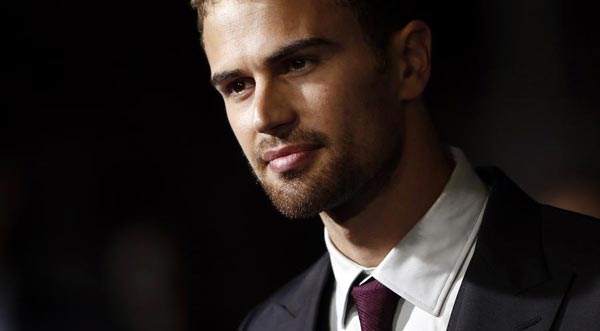 Cast member Theo James poses at the premiere of "Divergent" in Los Angeles, California in this March 18, 2014 file photo. [Photo/Agencies]
Lionsgate's "The Divergent Series: Insurgent" showed the power of young audiences and led the box office this weekend with an estimated $54 million.
Based on the popular series by Veronica Roth, the second installment of the Lionsgate young adult series starring Shailene Woodley and Theo James is about a young woman fighting for freedom and survival in a dystopian society.
"Insurgent" opened just below the 54.6-million-dollar debut of the first "Divergent" in 2014. It grossed $3.6 million from 356 IMAX locations, which represented 6.7 percent of the film's overall grosses this weekend. The audience breakdown for " Insurgent" skewed towards female moviegoers (60 percent) and moviegoers under the age of 25 (55 percent). The film received a healthy "A-" rating from first-night moviegoers on CinemaScore. But critics only gave a poor 32 percent approval rate for it on RottenTomatoes.
Disney's fairytale film "Cinderella" ranked second this weekend with $34.5 million, down 49 percent from last weekend's debut. "Cinderella" has grossed $122 million ten days since its release, which places "Cinderella" 5 percent behind the $128- million ten-day gross of Disney's other fairytale " Maleficent" in 2014.
Liam Neeson's "Run All Night" plummeted 54 percent to a distant third place with $5.1 million. "Run All Night" has grossed $19.7 million in ten days.
In fourth place, "The Gunman" debuted with a poor $5 million at 2,816 locations in US and Canada. The film received a lackluster "B-" rating from first-night moviegoers on CinemaScore, which indicated the film would fade away from theaters in weeks. Critics just gave it a 14 percent film recommendation rate on RottenTomatoes.
Rounding out the 10 most-popular movies this week were " Kingsman: The Secret Service" ($4.6 million), "Do You Believe?" ($4 million), "The Second Best Exotic Marigold Hotel" ($3.5 million), "Focus" ($3.3 million), "Chappie" ($2.7 million) and " Spongebob Squarepants 2" ($2.4 million).
Related:
Animal reality show starts debate on animal rights
New film highlights 1930s Australian protest against Japanese atrocities in China