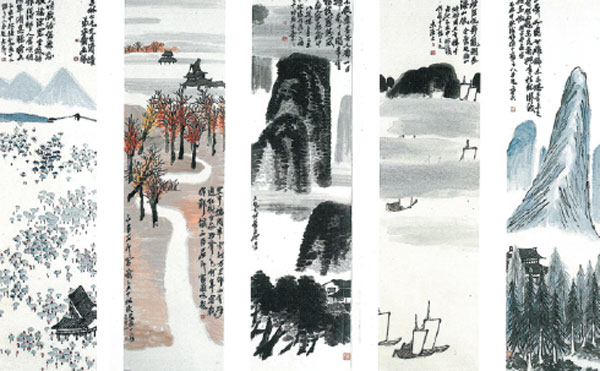 Part of 12 mountain-and-water paintings by artist Qi Baishi, currently on display at the Poly Art Museum in Beijing. [Photo provided to China Daily]
A series featuring 12 mountain-and-water paintings by the artist Qi Baishi (1864-1957) are looking for potential buyers. They are on show in Beijing and are expected to fetch a record-breaking price for the artist.
The 12 hanging scrolls, each measuring 1.8 meters in length, depict distinct landscapes to epitomize Qi's five important journeys across the country in the early 20th century that greatly inspired his art. The scenes depict subjects typical of traditional Chinese painting, varying from a lonely boat, the blossoming lotus, pavilions hidden in trees and the moon rising from behind rocky mountains.
Qi completed the paintings in 1925, at the age of 62, a few years after he became widely recognized as an artist of note-Qi did not become well-known for his work until he was in his mid-50s. Lang Shaojun, a retired scholar with the Chinese National Academy of Arts, once commented that the paintings largely represent Qi's able handling of the shanshui (mountain-and-water) genre.
Lang says the 12 paintings demonstrate Qi's ability to combine sketching skills with traditional subjects while putting his own angle on the images. Qi's simple composition managed to convey the rich flavor of modern life, instead of the aloofness typical of traditional landscape painting.
Qi painted the scrolls and presented them as birthday gifts to Chen Zilin, a friend and famous doctor at the time. The paintings were later purchased by Guo Xiuyi (1911-2006), a socialite who studied painting under Qi. The paintings have been kept as treasures by Guo and her family until today. Guo's descendants decided to sell the paintings through Poly International Auction's sales. They are currently on display at the Poly Art Museum.
The auction house says Guo's collection is one of only two mountain-and-water sets by Qi known to exist. The other set Qi created in 1932 was given as a gift to a warlord in Sichuan province. They are now kept at the Chongqing Museum.
Hua Tianxue, a scholar with the Chinese National Academy of Arts, says although Qi didn't paint many mountain-and-water works, he achieved mastery of the genre much earlier than the other categories, such as the flowers and birds he is widely known for.
"Many painters of his time followed strictly the painting set by the Four Wangs, the four accomplished shanshui painters of the Qing Dynasty (1644-1911), all with the surname Wang. Qi, however, stepped aside to explore modern presentations of landscapes and to refresh people's understanding of shanshui.
"He applied vivid color chips, such as red and blue, first in his mountain-and-water works. The treatment later appeared in his flower-and-bird paintings that ultimately became a signature of his works," Hua says.
It's said that when Chen Shizeng (1876-1923), the reputed painter and critic, first saw Jie Shan Tu Ce, Qi's other famous shanshui works, in 1917, he liked it so much that he borrowed and never returned it.
Zhao Xu, executive director of Poly International Auction, says the scrolls may be sold either at public auctions or privately within a year.
Zhao refused to speculate on prices, but has revealed that the paintings are offered at a price in line with the iconic works of Western artists.
Local art market players hail Qi Baishi and Zhang Daqian (1899-1982) as two giants of modern Chinese art, and argue that their works should command prices similar to representative Western artists active at the same time they were.
Qi's work Eagle Standing on Pine Tree, an ink painting with a four-character couplet in seal script, sold for 425 million yuan ($68.4 million) at a night sale of the China Guardian Auctions in 2011. The work ranks among the most expensive Chinese paintings ever sold.
The scrolls will also be on show at an exhibition on the sidelines of the Boao Forum for Asia's annual conference to be held from March 26 to 29 in Hainan province.
If you go
9:30 am-4:30 pm, Monday to Saturday, until March 30. Poly Art Museum, New Poly Plaza, 1 Chaoyangmen Beidajie (North Street), Dongcheng district. 010-6500-8117, 010-8419-2359.