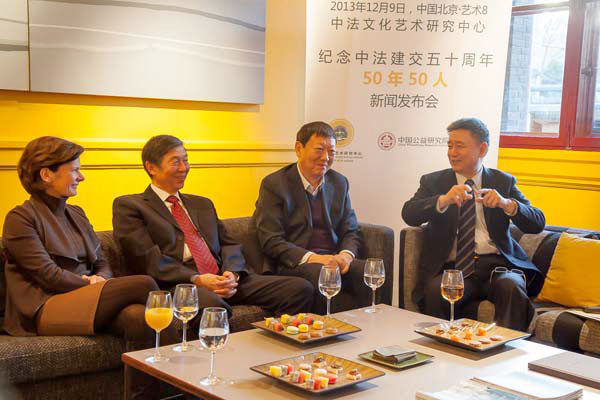 From left to right: Christine Cayol, founder of Yishu 8; Wu Jianmin, former Chinese ambassador to France; Niu Gensheng, founder of Mengniu Dairy and a philanthropist; Wang Zhenyao, director of the China Philanthropy Research Institute. [Photo provided to chinadaily.com.cn]
50 people will be selected among those who have greatly contributed to Sino-France cultural exchanges over the past 50 years, according to a press conference held recently at Yishu 8.
All of this will be part of the activities commemorating the upcoming 50th anniversary of diplomatic relations between China and France.
The candidates will be judged mainly by their contributions in respect to art and culture, and their influence on communication between the two cultures.
Jean-Pierre Raffarin, former French prime minister said, "The selected figures, 25 from China and 25 from France, may not be well-known to common people, but they have made an understanding and dialogue between the two countries possible."
Heading the panel of judges are Christine Cayol, founder of Yishu 8 and Wang Zhenyao, director of the China Philanthropy Research Institute. The selection work began in October this year and the results will be announced early next year.
The selected 50 figures will have their portraits taken, and the photographs will be on display at Beijing Yishu 8 and La Celle Saint-Cloud in Paris next year.
Meanwhile, biographies of the selected people will be written as well as albums published, so the public can learn more about them. Medals will also be conferred upon the 50 representatives in March of next year as a reward for their great contributions.