Multifunctional space creates a bridge that unites nations
Standing in front of a red wine cabinet that is remodeled from an antique Chinese medicine shelf in Yishu8, Christine Cayol said she enjoys the collision of Chinese and French cultures.
"These kinds of designs have a sense of humor, and they are very interesting, aren't they?" She smiles, and asks in perfect Chinese.
Cayol said she prefers to position herself as "a bridge that connects China and France", and her ultimate goal is to promote the culture communication between two civilizations.
One of her biggest achievements is to found Yishu8, a non-profit art center in Beijing in 2009.
Its name in Chinese is a homophone for "art bar", and Yishu8 has already hosted a series of cross-border art exhibitions, seminars and various events in the past four years.
She said Yishu8 has now grown into one of the most well-known hubs for artists in Beijing.
"Artists and musicians love to come here. We are non-profit, but what makes us stand out is that we have spirit," she said.

"In here we provide a great platform for young artists from both countries to exhibit their art pieces and exchange ideas."
Yishu8 is located on the site of former Sino-French University, whose founding members, in 1920, included Tsai Yuan-pei (1868-1940), a renowned Chinese educator.
Each year, the center selects six young artists from China and France and offers them an opportunity to study as well as hold personal exhibition in each other's countries.
"I think art is a common language for all human beings," Cayol said.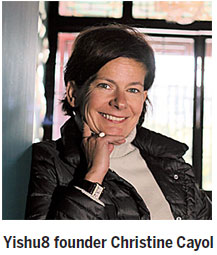 Cayol also hosted an event called "50 years, 50 people" in Yishu8 on Saturday to celebrate the 50th anniversary of diplomatic ties between China and France.
"We choose 50 representatives from both countries and would like to comment on their significant contributions to cultural communication," she said.
Yishu8 is rooted in Cayol's personal experience.
Born in 1965, Cayol is a Parisian artist, entrepreneur and college philosophy professor.
In 2004, she moved to Beijing with her husband.
Spending a decade in Beijing has given her countless inspirations and a prosperous career.
When Cayol first arrived in Beijing, she spoke no Chinese nor did she have any understanding of the local culture.
"Culture differences easily cause misunderstandings and inconveniences," she said. "And I gradually realized the importance of efficient cultural communication."
"I was 38 years old when I decided to learn Mandarin. I am no longer a young student, but I am open-minded and willing to learn."
Knowing a language is not enough for Cayol, who wants to get a deeper insight of Chinese culture.