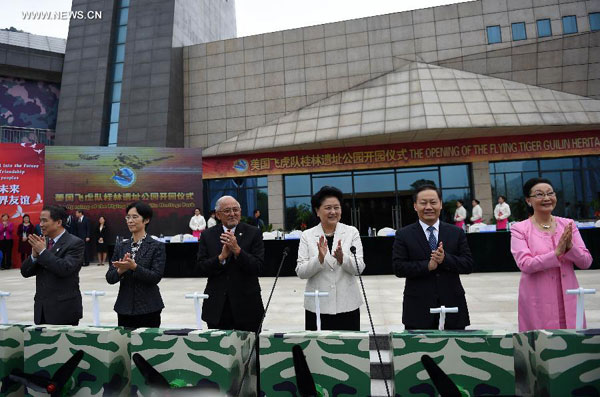 Chinese Vice Premier Liu Yandong (3rd from right) attends the opening ceremony of the Flying Tiger Heritage Park in Guilin, South China's Guangxi Zhuang autonomous region, March 28, 2015. [Photo/Xinhua]
In addition to enjoying its natural beauty, visitors to south China's Guilin now have the opportunity to learn more about an important chapter of China-US cooperation in the Flying Tiger Heritage Park that opened on Saturday.
This year marks the 70th anniversary of the end of World War II. The heritage park honors the US "Flying Tigers" air squadron, who helped the Chinese fight the Japanese aggression during the war.
President of the Flying Tiger Historical Organization Major General James Whitehead Jr. and Cynthia Chennault, daughter of late US General Claire Lee Chennault, were present at the opening ceremony.
The park is built on the site of Yangtang Airfield, which served as the command base from which the Flying Tigers launched missions throughout southern China.
The park includes a museum, aircraft shelters and relics of a command post located in a cave.
The US-based Flying Tiger Historical Organization, which includes the squadron's pilots, their families and supporters, has donated more than 600 historical items to the park.
The Flying Tigers, officially known as the American Volunteer Group of the Chinese Air Force, were formed in 1941 led by US General Claire Lee Chennault to help China drive out invading Japanese troops.
After a brief period of intensive training, Gen. Chennault led the Flying Tigers to China. In their first air combat in December 1941, the Flying Tigers downed six enemy bombers and damaged four.