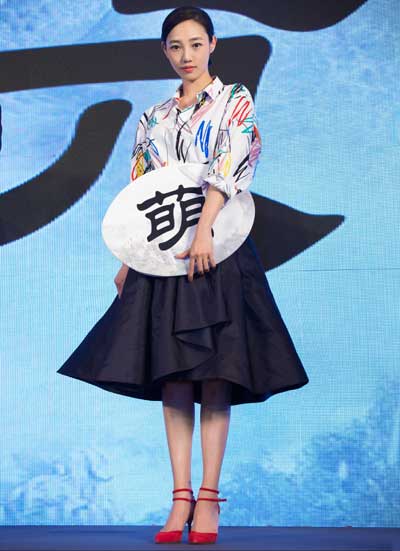 Chinese actress Bai Baihe attends a press conference.  Photo provided to China Daily
Raman Hui's latest movie, Monster Hunt, seeks to create a Chinese version of Shrek, the Hong Kong-based director announced at a press conference in Beijing on March 26.
In the past he co-directed Shrek The Third, and directed another Hollywood animation Kung Fu Panda: Secrets of the Furious Five.
"The United States has a total population of around 320 million, and the figure in China is (about)1.36 billion. It means China has a much wider market than the US," Hui said. "But why does the US have the best animated movies in the world? When can China boast about its homegrown productions around the world?"
After nearly 20 years in Hollywood, where he initially struggled to find a foothold and then achieved much success with the Kung Fu Panda movie, Hui was eager to show Chinese moviegoers "something he had learned" in the world's most popular entertainment industry.
Monster Hunt is a Chinese-language fantasy that features the adventures of cute monster Hu Ba, who resembles robotic superhero, Baymax, from the Disney 3-D hit Big Hero 6.