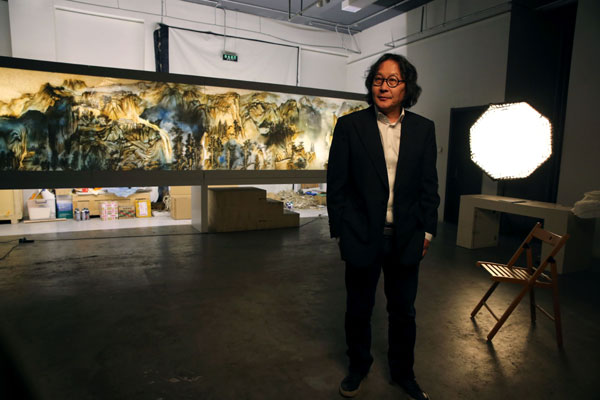 Xu Bing at his Beijing studio. [Photo by Jiang Dong/China Daily]
Chinese artist Xu Bing shares his views on French painter Jean-François Millet's masterpiece Haystacks: Autumn in a short film, which was released by New York's Metropolitan Museum of Art on its website on March 25.
The 3-minute video is part of the Met's novelty year-long The Artist Project, an online series that invites 100 artists from across the world to each choose and reflect on a piece of art or gallery from the museum's encyclopedic collection. And Xu is the only Chinese among the 20 artists involving in the series' Season 1.
"The Met hopes the talk can engage ordinary viewers with the works of art more closely. And I wish to introduce the painting's academic depth with familiar expressions and in a straightforward way," Xu Bing told China Daily.
In the video, he helps people "read" Millet's work. He mostly analyses the composition and the application of colors. He focuses on how Millet dealt with the ray of light that passes through the clouds and falls on the village.
Jean-François Millet (1814-75) is known as a founder of the Barbizon painting school, and is especially noted for portraying rural scenes and farmers. Haystacks: Autumn was on show at Earth, Sea, and Sky: Nature in Western Art, an exhibition displaying part of the Met's collection, which was held at Beijing's National Museum of China in 2013. Xu says he has shared many perspectives to appreciate the painting that art historians at the Met find rather refreshing.
"We Chinese people view peasants in quite a different way from Westerners'. Personally, I have the farming experiences as one of the 'zhiqing (youths sent to the countryside to be re-educated during the 'cultural revolution' (1966-76) generation," he said.
The Artist Project includes five seasons in total. The Met says on its website that in doing so, artists get to "reveal the power of a museum and the Met. Their unique and passionate ways of seeing and experiencing art encourage all museum visitors to look in a personal way."
Xu Bing's video can be viewed at http://artistproject.metmuseum.org/1/xu-bing/.