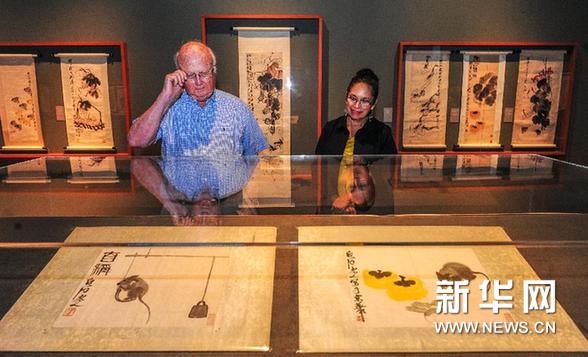 Visitors view Qi Baishi's artworks at the Bowers Museum in Los Angeles on April 10. [Photo/Xinhua]
The exhibition "Qi Baishi: China' s Modern Master" opened in the Bowers Museum Friday, making some of the Chinese artist's works accessible to Americans for the first time.
The exhibit, held in Santa Ana, features 50 pieces of Qi's art, and is the first overseas display of the influential Chinese painter's collection from Hunan Provincial Museum.
The 50 art works include 47 paintings and pieces of calligraphy, two stone seals and one wood carving. They document Qi's professional career from age 37 to 92.
"Qi was born in Hunan, and spent most of the first half of his life there until he settled in Beijing in his 60s," said You Zhenqun, vice president of Hunan Provincial Museum.
You said that not only was Qi considered a modern master in China, Qi's works have been very popular in Japan, Germany, the United States and other foreign countries since the 1920s.
"This is the first time that Hunan Provincial Museum has lent Qi Baishi's art pieces to the United States. We always see his paintings at international auctions, but never his wood carvings. So this is also the first time for American visitors to see his wood carvings," said Anne Shih, chairwoman of the Bowers Museum's Board of Governors.
Born in 1864 to a poor family in Hunan, Qi became a carpenter at 14 and taught himself how to paint at 27. He continued to paint people and landscapes he encountered as he traveled around China.
Qi, who died in 1957 at the age of 93, has been honored with the title "People's Artist" by the Chinese Ministry of Culture and selected president of the China Artists' Association.
The exhibit runs until July 11 and is part of an exhibition exchange. "First Americans: Tribal Art of North America," which contains more than 100 American Indian artifacts from the Bowers Museum's collection, is on loan to the Hunan Provincial Museum.