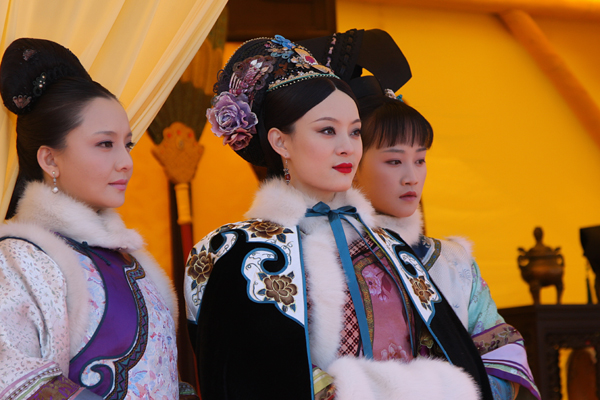 A scene from the 2011 TV series The Legend of Zhen Huan, starring Sun Li (center) as Zhen Huan. Photo provided to China Daily
There was a palpable dull thud of disappointment that accompanied the return of the imperial entourage of Zhen Huan to her homeland.
It followed a couple years of hushed excitement as Chinese fans were fed tidbits about their proud concubine who was supposed to conquer the high ground of the North American market.
Zhen Huan is, of course, the title character of The Legend of Zhen Huan, a 2011 television series that swept China off its feet and later took other Asian countries by storm.
Two years ago, it was reported that HBO, a premium cable service headquartered in the United States, was going to air it in North America after some modification. Now, a condensed version that provides English subtitles but no dubbing has finally been made available on Netflix for online streaming.
This version, highly anticipated as a milestone in China's cultural foray overseas, has been widely panned by its home audience.
Retitled Empresses in the Palace, the American version has been shortened from its original 76 episodes at 45 minutes each, to six 90-minute episodes. The quick pacing threw off many native viewers, who are accustomed to a more leisurely daytime-soap-style narrative rhythm. (Chinese TV stations would run two or three episodes every day.)