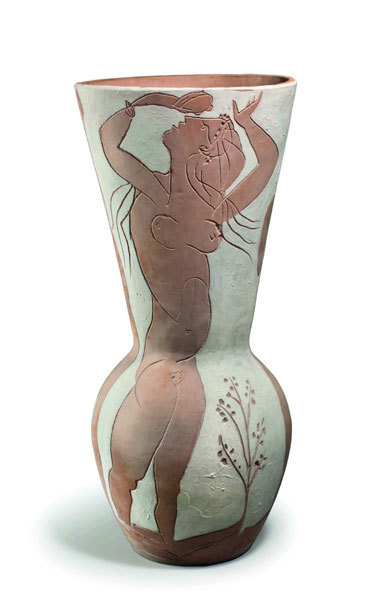 At Christie's Shanghai auction on Saturday, the auction house is bringing two Picasso works especially for Chinese buyers, including the Grand vase aux danseurs.[Photo provided to China Daily]
Compared to impressionism that is well known not only by collectors, but ordinary Chinese people, "old masters" are still a novelty for Chinese buyers.
"There is a real interest but little knowledge. So we have to educate them and this is something we'll continue doing in the future," said Hall at the Beijing lecture which attracted about 50 people.
Hall and Elaine Holt, director of Impressionism and Modern Art at Christie's, say more Chinese are active in buying impressionism.
Christie's spring auction in New York in June will offer Pablo Picasso's "O" version of Les Femmes d'Alger. It has an estimated price of $140 million. At Christie's Shanghai auction on April 25, the auction house is bringing two Picasso works especially for Chinese buyers-a ceramic work Grand vase aux danseurs and an painting on card Tete d'homme.
"We find some mid-range collectors start buying Picasso works ranging from $2 million to $7 million rather than eye large pieces worth tens of millions," says Holt.
Holt says it's a sign of maturity of Chinese collectors to establish their own collecting system. The trend for Chinese collectors is to buy for their private museums, unlike most US collectors who prefer to donate works to public museums.
"The difference comes from the government policies on tax," says Holt. She says that in China, collectors are usually established businessmen who do not have to pay import taxes if they show their purchases in their private museums.
For example, collector Liu Yiqian has his Long Museum in Shanghai, which enjoys an growing reputation. Real estate mogul Yan Lugen set up a private museum in Nanjing named after his company. It is known for its Picasso collection.
If not for exhibition, many collectors store their art in free ports.
Holt says Chinese collectors start with painters they can understand. Painters such as Picasso, Monet and Van Gogh are what they were familiar with and what they studied in middle school. But after they have enjoyed the familiar works, they start to explore works by other artists.