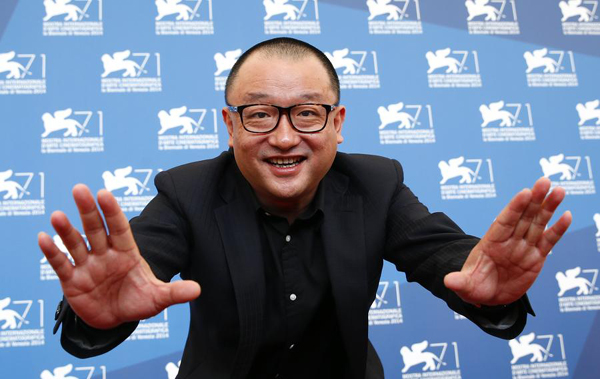 Director Wang Xiaoshuai poses during the photo call for the movie "Chuangru she" (Red amnesia) at the 71st Venice Film Festival September 4 2014. [Photo/Agencies]
Chinese director Wang Xiaoshuai appealed to moviegoers for support after his acclaimed movie "Red Amnesia" performed poorly at the box office.
"I believe I have made a great film and China's film market should accommodate different genres, but the severity of the reality and the tiny number screenings have gone beyond my imagination," said Wang in a statement published on his Weibo account late Thursday.
According to film industry researcher Entgroup, "Red Amnesia" only secured 1.32 percent of the country's 23,600-plus movie screens on its opening day, earning some 800,000 yuan ($129,256) at the box office.
The film was rated an 8.1 out of 10 on Chinese film site Mtime.com, only slightly lower than "Furious 7," which just became China's highest-grossing movie of all time.
Wang's appeal has highlighted the predicament of arthouse films in China, which have been marginalized as cinema managers arrange more screens for blockbusters and 3D films.
"I know many moviegoers still hope to see different films. My audience, please support me!" said Wang in the statement.
Wang is known for the Berlin Silver Bear-winning "Beijing Bicycle" and "Shanghai Dreams." He will head this year's Asian Film Academy in Busan, Republic of Korea.
Related:
Chinese filmmakers need to make more serious films: director