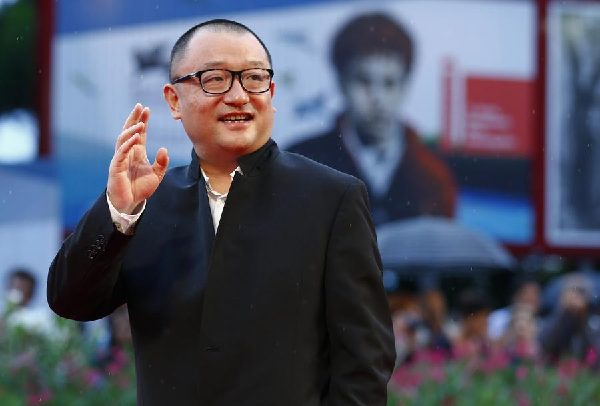 Director Wang Xiaoshuai attends the red carpet for the movie "Chuangru zhe" (Red amnesia) at the 71st Venice Film Festival September 4, 2014. [Photo/Agencies]
VENICE -- As the 71st Venice film festival concluded here on Saturday, Chinese director Wang Xiaoshuai, who presented his new film Chuangru zhe (Red Amnesia) in the competition section, said he was serene despite not winning any awards.
"I am peaceful. I shot my film as I wanted and I had the opportunity to participate in the festival," Wang told Xinhua in an interview after the awarding ceremony concluded on the Lido seafront in the Italian iconic water city.
Chuangru zhe aroused reflection on China by depicting the fears of Chinese older generations "who have lost their consciousness" dedicating their entire life to the construction of their home country, to the others and to their family.
Wang said he was feeling sorry, however, for his film's main protagonist Lv Zhong, who did not obtain the Coppa Volpi award for Best Actress.
"She is a phenomenal actress," he highlighted.
In the film, the 73-year-old respected Chinese actress is Deng, a retired widow who grew up after the establishment of the People's Republic of China in 1949, and spends her old age caring about her two grown-up sons until one day she starts receiving anonymous phone calls.
The intruder is the burden of her past, the suffering she has caused to other people in a troubled period of China's history, that she will not be able to get rid of.