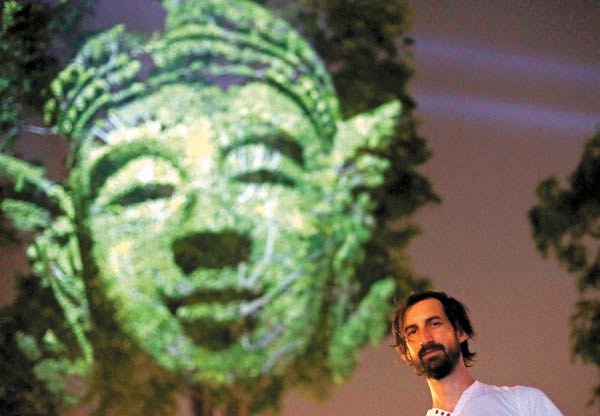 Artist Clement Briend poses with his photographic light installation Divine Trees. [Photo/Agencies]
If you have only visited the majestic National Museum of Singapore in the daytime, you would have been surprised to find that the country's oldest museum turned into a giant harp after dark under the magic hands of American artist William Close.
Not only the National Museum but the city-state at night changed with magic and sound. The annual Singapore Night Festival unveiled its dazzling beauty in August, giving audiences brand-new experiences when exploring the area at night.
With the theme "Bold and Beautiful", the eclectic lineup of this year's event transformed the urban cityscape into a fun-filled playground with lots of surprises.
One of the festival headliners was the performance of William Close, who has invented over 100 instruments. Inspired by renowned architecture Frank Lloyd Wright's quote, "architecture is frozen music", Close pushed boundaries again by transforming the facade of the National Museum of Singapore into one of the world's largest stringed instruments.
To play the giant harp, Close wore specially designed cotton gloves coated with violin rosin. With the help of rosin, Close says, "It allows my fingers to create friction on the strings, it's very similar running your fingers on the edge of a wine glass, it's actually pushing the vibration among the strings."
Close and the Earth Harp shot to fame on the hit NBC television show America's Got Talent, where he was a finalist. Close and his Earth Harp Collective have performed at the Kennedy Center in Washington, DC, the Shanghai International Arts Festival, the Coachella Music Festival and Lollapalooza.
This was the first time Close performed in the open air in Singapore. And this time, he also collaborated with other groups for the first time in his performance, including local drum group ZingO and Austrian-based collective Phoenix, who infused acrobatics, aerial dances and pyrotechnics during the show.
"I love collaboration, I love it when it crosses borders and boundaries, it's so amazing to be working with the amazing drum group," Close says. "To bring this instrument of mine in connection with them, it became sort of newly invented instrument. It's really special." Night Lights, a past crowd-favorite section of the festival, returned this year to pay tribute to the power of nature and the creation of light.
One example was photographic light art installation Divine Trees by French artist-photographer Clement Briend.
He overlayed trees with haunting mirages of divine figures highly revered in Asian culture, creating the illusion of awakened deities towering over passers-by.
This was the 7th edition of Singapore Night Festival, which ended on Sunday.