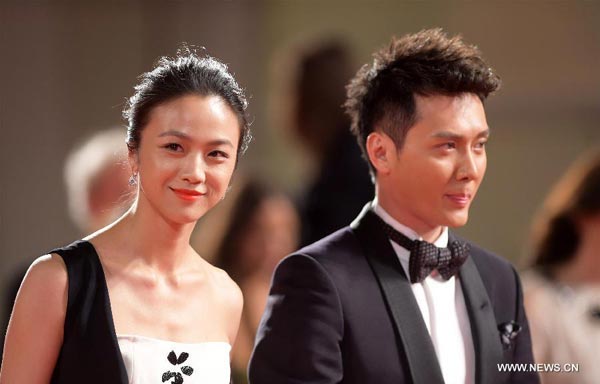 Actress Tang Wei (L) and actor Feng Shaofeng pose on the red carpet for the awards ceremony at the 71st Venice Film Festival, in Lido of Venice, Italy on Sept 6, 2014. "The Golden Era" directed by Ann Hui was screened as the closing film for the festival.[Photo/Xinhua]
The 71st Venice Film Festival ended here on Saturday with the Golden Lion, the highest prize given at the festival, awarded to a Swedish film by director Roy Andersson, and a large presence of Chinese works shown to international audience.
Twenty titles, 19 of them world premieres, competed for the Golden Lion. The international jury included jury president French musician Alexandre Desplat, English costume designer Sandy Powell and Chinese American actress Joan Chen.
A total of seven Chinese-language movies were presented at the film festival, with "The Golden Era" by Hong Kong director Ann Hui being the festival's closing film.
During the festival, a China Film Forum, entirely dedicated to the Asian country, was held for the first time.
Senior Chinese and European experts and film commentators at the forum agreed that Sino-foreign film co-production is a shortcut to breaking "unspoken rules" that have hampered the internationalization of Chinese cinema.
Though foreign audience expects to see some "astonishing" scenes in Chinese movies, said Wang Xiaoshuai, director of "Red Amnesia" that competed for the Golden Lion, Chinese works should stick to China's own culture instead of trying to cater to foreign tastes.
"I shot my film as I wanted and I had the opportunity to participate in the festival," Wang said in an interview.
But the Chinese director was feeling sorry as his film's protagonist, respected Chinese actress Lv Zhong, did not win the Coppa Volpi award for Best Actress despite her stunning performance, which was applauded by the international audience.
Several viewers at the film festival said they were impressed by the growing popularity of Chinese cinema that has been increasingly recognized and appreciated at the global level.
Valentina Sangiorgi, a woman who defined herself as a "China and cinema enthusiast," said that cinema is an important channel to learn various aspects of China that she had only approached in books.
Alberto Barbera, director of the 71st Venice Film Festival, described the the development of the Chinese film industry in recent years as "huge" in terms of technology and market.
As far as technology is concerned, the Chinese film industry has "the same quality as the American ones as there are many joint ventures between Hollywood studios and Chinese film production companies," Barbera told Xinhua.
"The only thing that needs to be improved for the Chinese cinema is the fact they are now producing films mostly for the local market," he said.
A total of 56 films were screened this year in the official selection at the world's oldest film festival, which ran from Aug 27 to Sept 6 on the Lido seafront in the Italian iconic water city of Venice.