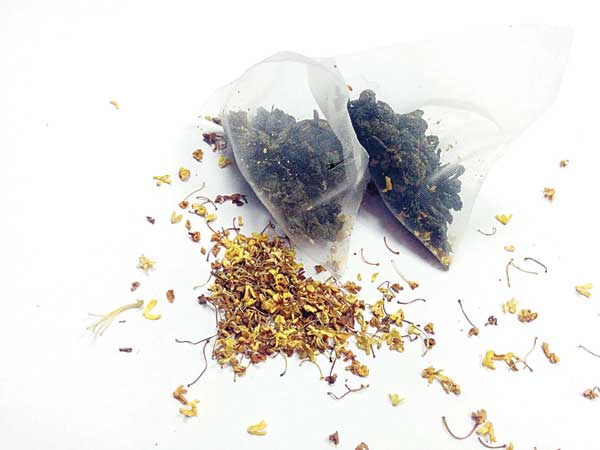 Fragrant tea: Oolong tea bags with dried osmanthus flowers [Photo by Pauline D. Loh/Shanghai Star]
Legend has it that the semi-deity Wu Gang toils endlessly on the moon cutting down an osmanthus tree that instantly grows back any branches he manages to chop off.
During the eighth lunar month, when the harvest moon shines brightest and seems closest, his strenuous efforts dislodge the fragrant blossoms and they rain upon the earth, taking root as flowering shrubs that burst into blooms around this time.
Pretty myths aside, the osmanthus is a scented flower that is very characteristic to Chinese cuisine and culture. Of the many hybrids listed, about 80 percent are native to the south of China, with some appearing in Southeast Asia and a few in South Asia.
The shrub is a widely cultivated ornamental, and its flowers are harvested and dried, to be made into osmanthus jam, or infused in osmanthus tea and wine. Osmanthus is especially enjoyed during the Mid-Autumn Festival, on the 15th day of the eighth lunar month.
This is the day for mooncakes, fat crabs, taro, water caltrops, pomeloes and osmanthus tea and wine. As always, in the Chinese festive calendar, most occasions are marked and celebrated with good food, and few are more delicious than those on the Mid-Autumn table.
Dried osmanthus flowers are often added to oolong tea, creating an expensive blend that is well loved for its elusively elegant scent. Osmanthus blooms are also used as an infusion on their own, and many quality Chinese restaurants offer them during the autumn period.
Yellow wine infused with osmanthus is the drink of choice around this time as well, especially when it's time to enjoy the mitten crabs that are now fat with roe and milt.
The yellow wine warms both stomach and constitution, neutralizing the effects of the coolness of the freshwater crabs. In recent years, osmanthus has become a popular flavoring agent as well, and chefs in Shanghai's top Chinese and Western restaurants have explored and exploited the possibilities.
Chef Simon Choi of Shangxi Chinese Restaurant at Four Seasons Pudong created an osmanthus jelly topped with yogurt and a dollop of bird's best, creating a few choice bites of luxury. Over at the Shangri-la Pudong, Chef Sam Gao of The Osmanthus Room, Guihua Lou, created a traditional floral gelatin topped with candied osmanthus. The Western pastry chefs are not far behind.
At the newly-opened Le Rêve Patisserie and Art Space at Yi Feng Galleria, French pastry chef Pascal Molines created a mooncake macaron using osmanthus flowers. The light blue pastry will win over fans of both French and Chinese pastries.
Le Reve also serves up different "mooncake" flavors in the series, including a five-nut and Chinese ham macaron, a crab-roe flavored macaron and the classic lotus paste macaron. In Shanghai, anything is possible.