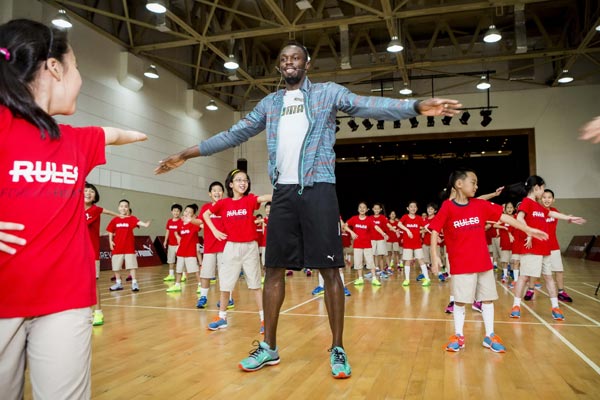 Usain Bolt participates in a promotional event. Photo provided to chinadaily.com.cn

The world's fastest man, Usain Bolt, visited

Shanghai

on Sept 1 to celebrate the sports brand PUMA's new campaign, Forever Faster.
He visited Shanghai Pinghe Bilingual Schoolwhere he spent time with the primary school students and coached them on the fundamentals of running. Then he went to Pudong Riverside Avenue, one of Shanghai's most iconic landmarks, to meet fans. The lucky fans got to test their speed against a 3D image of Bolt on a 30-meter track.
Bolt wore a pair of Mobium Elite Speed shoes to celebrate his visit. The Chinese designer Wang Zhijun designed the shoes, which are inspired by Chinese porcelain. Bolt's name was printed in Chinese calligraphy.
When asked about how he defined Forever Faster, Bolt said, "It is about everything. It's a great slogan, it describes me perfectly. I am forever faster, when PUMA came up with this I thought, "yes, this is me".
Last week, the Jamaican champion celebrated his 28th birthday, and also the five-year anniversary of the two World Records he set at the 2009 IAAF World Championships in Berlin. For more than three decades, no 100m World Record has stood for such a period.