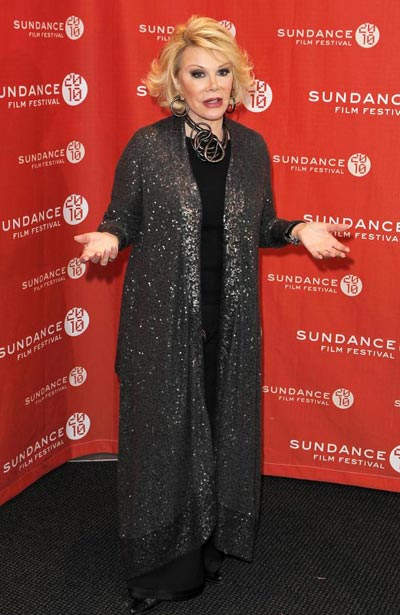 Comedian Joan Rivers arrives for the premiere of the documentary "Joan Rivers - A Piece Of Work" during the 2010 Sundance Film Festival in Park City, Utah in this January 25, 2010 file photo. [Photo/Agencies]
Joan Rivers, the pioneering comedian known for her acerbic wit, classic put-downs and for asking "Can we talk?," died on Thursday at the age of 81 in a New York hospital a week after her heart stopped during an outpatient medical procedure.
Melissa Rivers, the comedian's only child, said her mother died peacefully, surrounded by family and friends, at 1:17 pm EDT (1717 GMT).
"My mother's greatest joy in life was to make people laugh. Although that is difficult to do right now, I know her final wish would be that we return to laughing soon," Melissa Rivers added in a statement.
There were no immediate details about a funeral or memorial service.
Rivers was the second leading American comedian to die in less than a month. Groundbreaking comedy star and actor Robin Williams, 63, hanged himself on Aug 13 in California.
As news of her death spread, photographers, reporters and television crews gathered outside the hospital where Rivers died, and fans placed bouquets of flowers at the entrance to her apartment on Manhattan's Upper East Side.
The Brooklyn-born comedian, who once described herself as "the plastic surgery poster girl" and often joked about her numerous cosmetic enhancements, suffered cardiac arrest during a procedure on her vocal cords at a Manhattan clinic on Aug 28. She was rushed to Mount Sinai Hospital, where she was put on life support.
Friends and fellow comedians on Thursday expressed their grief and sadness and praised Rivers.
"No one loved life, laughter, and a good time more than Joan. We would have dinner and laugh and gossip and I always left the table smiling," said journalist Barbara Walters.
"She was a brassy, often outrageous, and hilarious performer," she added in a statement.
Israeli President Benjamin Netanyahu expressed his condolences to Rivers' family and said she would be deeply missed.
"Joan Rivers brought laughter to millions around the world and was proud of her Jewish heritage and a vocal supporter of the State of Israel," he said in a statement.
The New York State Department of Health said on Thursday it is investigating the comedian's death. A telephone message seeking comment from the clinic where Rivers was treated was not immediately returned.
Earlier this week, a representative for Rivers said media reports that her family was planning to sue the clinic were not true.