Water caltrops: Ninja weapons or bull horns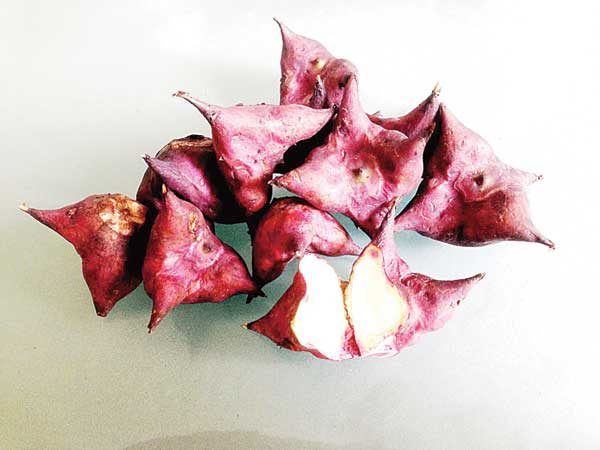 Autumn treat: Four-horned red water caltrops from Jiangnan [Photo by Pauline D. Loh/Shanghai Star]
In a very distant childhood, we had looked forward to the Mid-Autumn Festival because of all the good food and fun, including the laying of hands on "rare" bites such as mooncakes and water caltrops, or lingjiao.
The water caltrop was both toy and food. It was a curiosity that only magically appeared during this time, to disappear again from sight until the next autumn moon eventually shone again. As food, it was a good, healthy side-bite and the nut had crunchy sweet snow-white flesh. We had more fun flinging the caltrops around as secret weapons.
Because of fear of injury, the adults made us promise we would not throw the caltrops at each other, so I'm afraid the animals in the compound had a pretty hard time during those few days. Fortunately, we had very bad aim.
We had more success making pretty hanging ornaments out of the more attractive nuts. In junior school, we were taught a Chinese folk song called "Harvesting Red Caltrops", a lilting love song that did not seem age appropriate for children barely able to lisp the words.
But it was a catchy tune, and we were blissfully innocent. What intrigued more was the description "red caltrop". Red? But the caltrops we were eating were black and shiny and looked like the over-developed upper torsos of steroid-fed body-builders.
Years later, I found out that Jiangnan hybrids are indeed red compared to the Guangxi, Guangzhou varieties, and they had four-horns, not just two, and looked even more like the proverbial weapons used by ninjas or the martial masters in the wuxia novels.
Water caltrops are annuals, and their fruits harvested only once every year, which explains their rarity out of season. They are the fruits of an aquatic plant widely grown in the southern parts of China, and part of the famous Eight Water Sprites so valued by Chinese cooks and gourmets.
The other members of that hallowed assembly are water asparagus, lotus rots, mizuna, foxnuts, arrowroot corms, water chestnuts and water shield shoots, all of which grow in the waterways and lakes in the Jiangnan region and most of which are harvested and enjoyed in autumn.
As for the water caltrops, the white flesh is extracted from the nuts and are most often used in stir-fries.
However, in the many street or night markets in south Chinese cities and on the island of Taiwan, vendors sell the seasonal water caltrops as casual snacks, steamed until the white flesh bursts through the red or white shells. They are only lightly salted but I think they taste best unadorned, so you can fully savor their slight fragrance and subtle sweetness.
They have a wonderful crunchy texture as well.