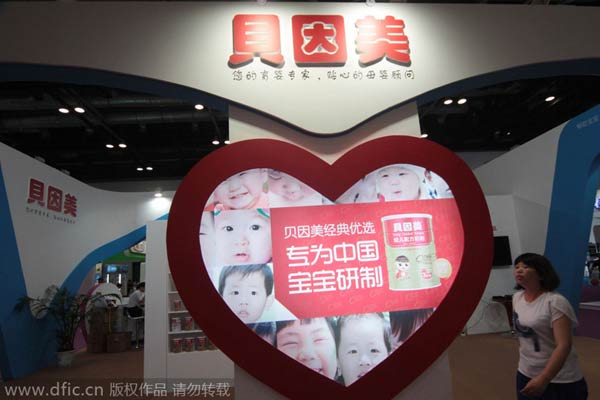 A visitor walks past the stand of Beingmate during the China Children and Women Industry Expo 2014 in Beijing, China, July 17, 2014.[Photo/IC]
WELLINGTON - New Zealand dairy giant Fonterra on Wednesday announced it will invest NZ$1.17 billion ($978.09 million) in forming a global partnership with Chinese infant food maker Beingmate and building new processing capacity to meet export demand.
The farmer-owned cooperative issued a statement saying the partnership with Beingmate would create a fully integrated global supply chaing from the farm gate direct to China's consumers, using Fonterra's "milk pools and manufacturing sites in New Zealand, Australia and Europe."
Fonterra would seek to buy a 20-percent stake in Beingmate for NZ$650 million ($543.52 million), and, if that gained regulatory approval, the two companies would set up a joint venture to buy Fonterra's Darnum plant in Australia and agree a distribution deal for Fonterra's Anmum brand in China.
Beingmate would own 51 percent of the joint venture in Darnum, which produces infant formula and other nutritional milk powders, and the plant would prioritize supply to the Chinese market.
Fonterra chief executive Theo Spierings said the partnership between two leading dairy nutrition companies would be a game changer that would provide a direct line into the infant formula market in China, the fastest growing infant nutrition market in the world.
The partnership would also play a part in promoting product quality and safety standards in China's infant formula market and further developing China's dairy industry.
"By working together with Beingmate, we will strengthen our infant formula brand presence in China and link China to high quality ingredients from New Zealand, high value paediatric products made at Darnum in Australia, and specialty ingredients manufactured at our new plant in Heerenveen in the Netherlands and in alliance with Dairy Crest in the United Kingdom," said Spierings said in the statement.
"We will also work with Beingmate to evaluate mutual investments in dairy farms in China," he said.
Beingmate chairman Wang Zhentai said the partnership would create globally competitive, safe and secure supply chains to deliver high quality, advanced dairy nutrition to meet the needs of China's growing population as well global consumers.
"The partnership will see our business take a significant step forward in its globalization ambitions," Wang said in the statement.
"The proposed partnership is well-aligned with the Chinese government's desire to see a strengthened focus on quality and consumer safety in the local dairy industry."
The infant formula market in China was currently worth about NZ$18 billion ($15.05 billion) and was expected to be worth NZ$33 billion ($27.59 billion) by 2017, said Spierings.
Fonterra also announced Wednesday that it would invest NZ$555 million ($463.97 million) in building a new high efficiency milk powder drier in the North Island and stepping up processing capacity in the South Island to help meet global demand for dairy products.
"Our strategy is to increase earnings by driving more milk volume into higher value categories globally by turning the wheel from commodities to higher-margin products," Spierings said.
Fonterra, which is building three major "dairy hubs" in China, previously had a 43-percent stake in China's Sanlu dairy company when it collapsed under the 2008 melamine-contamination scandal.
In August last year, Fonterra announced a global recall of products connected with a batch of whey protein concentrate that was wrongly thought to be contaminated with a botulism-causing bacteria.
Fonterra claims to be the largest processor of milk in the world, producing more than 2 million tonnes of dairy ingredients and related products every year.