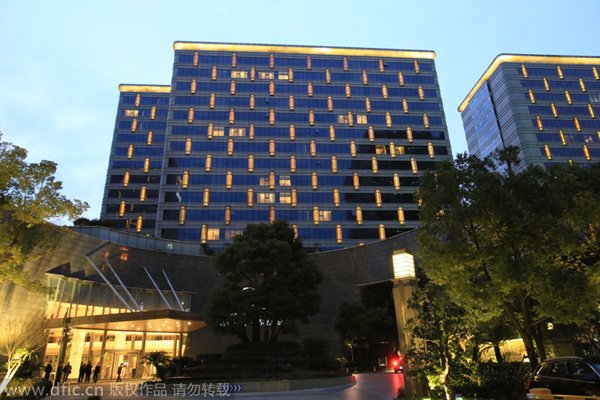 Night view of outdoor scene of Hilton Shanghai Hongqiao, China, March 7 2014. [Photo/IC]
Hilton bullish on growth prospects in China, according to top executive
Hilton Worldwide Holdings Inc, the world's largest hotel operator by market value, has big dreams in China, ones that are hinged closely to the country's rapid economic growth and burgeoning hospitality market, a top company official said.
Christopher Nassetta, chief executive and president of Hilton Worldwide, said the company plans to expand its footprint in China and also have more hotels in the pipeline. "By investing more resources, we want to consolidate our presence further," he said.
Nassetta, who took office in 2007, said the hotel operator has ample confidence in the long-term growth prospects in China. At present, Hilton has 48 hotels under five brands and 140 hotels in its pipeline under construction in China.
"We plan to introduce two more brands in China by the end of this year," he said. The first would be the Embassy Suites, which will be launched soon. In addition, Hilton may also launch its three-star brand - Hampton, Nassetta said.
"We want to cater to different types of customers, and our products range from three-star to super luxury."
At the same time, Nassetta admits that Hilton has much catching up to do in China. "The strategies that we adopted earlier in China did not have the desired results. As a result, we lagged behind our rivals. But we are fast catching up."
Hilton entered the Chinese market 26 years ago with a hotel in Shanghai. However, it had only five hotels in China by 2007. "I do not know why, since I was not there then," Nassetta said.
Industry sources, however, said the hotel giant could not focus much on the China market due to various reasons. Hilton International and the original domestic US business, Hilton Hotels Corp, became separate companies in 1964, and HHC reacquired Hilton International in 2006.
During the 40-year separation, HHC bought several brands, and after the two units reunited in 2007, the new Hilton Worldwide was a "very dysfunctional organization", the sources said.
"We were the No 1 brand in terms of customer awareness in every region of the world," Nassetta said. "But we were not doing anything about it."
Nassetta, who has over two decades of experience in the hotel and real estate industry, was named CEO and president of Hilton Worldwide in 2007, after private equity firm Blackstone Group took control of the hotel operator.
The $26 billion acquisition was considered a "bad investment" by many industry sources as the global hotel industry went into a tailspin due to the financial crisis in 2008. However, investors finally got rewards in 2013, when the hotel group listed its shares on the New York Stock Exchange. Hilton Worldwide raised about $2.34 billion in its initial public offering, a record of sorts for the hotel industry.
The IPO success and financial performance have helped bolster investor confidence, said analysts. Nomura Securities raised its price target for Hilton Worldwide to $29 a share on July 7, when the market price was $24.8.
Hilton will enjoy a much higher growth rate than most of its peers due to its huge global pipeline and high operating leverage, Harry Curtis, an analyst with Nomura Securities, said in a recent research report.
More important, the group's return to the capital market is considered by many industry sources as an innovative move championed by Nassetta.