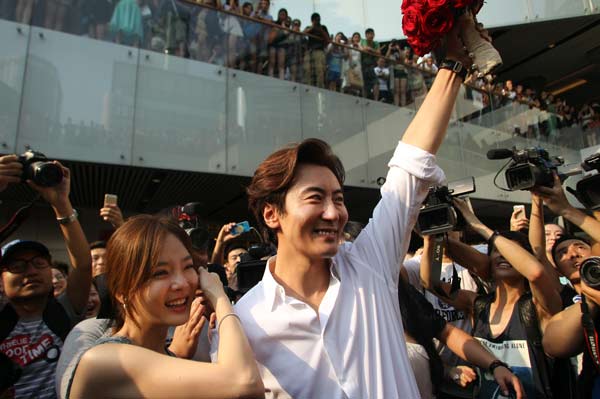 South Korean actress Park Chae-rim is engaged to Chinese actor Gao Ziqi. Photo by Zou Hong/China Daily
An increasing number of South Korean actresses are coming to China to star in TV dramas and films.
One of the more well-known stories is that of Park Chae-rim, who was recently engaged to Chinese actor Gao Ziqi. The couple shared their pre-wedding photographs and love story with magazine Elle Bride.
"Gao prepared for the proposal (in June) for one month, and I was moved to tears when I received the ring. He also cried before the proposal," Park told the magazine.
The couple fell in love in 2013, when they worked together on a Chinese TV series. They will hold wedding ceremonies in both China and South Korea in October.
Park, 35, became famous in the 2000s for her roles in South Korean television dramas and starred in her first Chinese TV series, Love at the Aegean Sea, in 2003. In the romantic drama, she was involved in a love triangle with actors Alec Su and Peter Ho. In the following years, she played either a princess or a queen in several Chinese costume TV dramas.
In 2005, one of Park's peers, South Korean singer and actress Jang Na-ra, made the decision to move to China to start her career, starring in the Chinese TV drama Bratty Princess. She won over many Chinese fans with her charming appearance and also released her first Chinese-language album.
The final episode of Jang's recent work Fated to Love You, a Korean adaptation of the 2008 hit Taiwan drama by the same name, recently aired in South Korea, to critical acclaim.
"Like the Japanese, South Koreans understand that they have a small population and a narrow market. Both the stars and their agencies want to expand their overseas appeal," says Fan Xiaoqing, a South Korean movie and TV series critic at the Beijing-based School of Television and Film Art, Communication University of China.