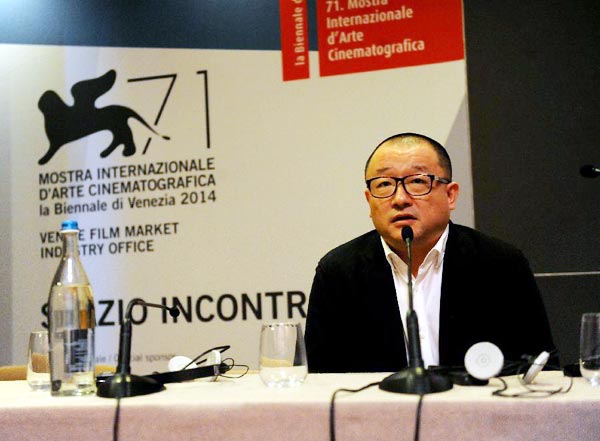 Chinese director Wang Xiaoshuai delivers a speech on the China Film forum in Lido of Venice, Italy on Sept 2, 2014. China Film Forum was held here as a part of the 71th Venice Film Festival's Venice Days Unit on Tuesday. [Photo/Xinhua]
VENICE -- Film professionals and experts gathered yesterday to discuss the global development of Chinese cinema at a forum held on the sidelines of the Venice International Film Festival.
The China Film Forum, themed "Opportunities and strategies: Chinese cinema in the world," is the first official forum entirely dedicated to the Asian country's film market during the film festival.
The forum focused on the challenges and strategies for the Chinese film industry as well as opportunities for cooperation with foreign film industries.
Chinese and world brilliant filmmakers including Chinese director Wang Xiaoshuai, whose thriller Chuangru zhe (Red Amnesia) is up for the Golden Lion award at the festival, and representatives of Italian cinema institutions shared their views on the rising role Chinese cinema plays in the world arena.
For two countries that share a millenary history like Italy and China, there are extraordinary cooperation opportunities to shoot films that can please the audience and be a cultural stimulus at the same time, Qin Hong, Chinese producer of the closing film of the Venice Film Festival "The Golden Era," said at the forum.
Related: First works bring unique opportunity for young filmmakers: Vivian Qu