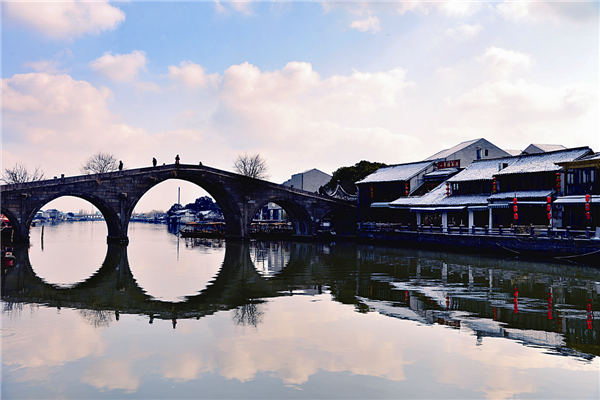 Zhou Jie takes a series of the 12 photos showing different views of the Chinese landscape in 12 lunar months. This is one of them. Photos provided to Shanghai Star
A doctor by day, amateur photographer Zhou Jie takes the Internet by storm with her beautiful images. Wu Ni takes a look.
By day, Zhou Jie dons her white robe and works as a gastroenterologist at the Shanghai Ruijin Hospital. Her main job is to perform gastroscopies for patients, but she also works night shifts and in the emergency room.
But when she sheds her doctor's garb, Zhou picks up her camera and hits the road. She is well known for her photos of the beautiful landscapes of the southern area of the Yangtze River.
She also writes poems, verses and stories to accompany the photos and has published two books. Her third book, Water Towns in My Dream, a collection of her photos and travelogues of some little-known water towns in Jiangsu, Zhejiang and Anhui provinces, will be published next month.
"Writing and photography are where my real interest and talents lie. It is quite a contrast to my job as a doctor, but the hobby helps relieve the pressures of my job," says the 34-year-old Shanghai native.
Zhou first caught the public's attention in 2012 when her photo series depicting the 24 solar terms of the traditional Chinese calendar went viral online. Many described them as breathtakingly beautiful. The photos were made into postcards and many book covers.