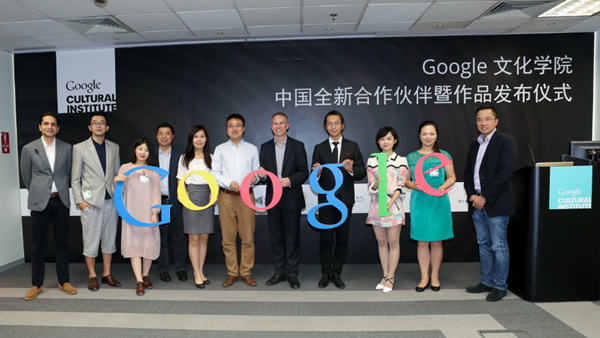 Google Culture Institute unveils its six Chinese partners on Sept 4 in Beijing, bringing the Internet giant's total of Chinese art partners to nine. Photo provided to China Daily
Google
tea
ms up with more Chinese art museums for online exhibitions, Deng Zhangyu reports.
With a computer and access to the Internet, anyone can appreciate high-resolution images of Chinese artworks and rare Chinese relics without visiting galleries and museums - even from the other side of the planet. It's a virtual-reality experience of Chinese art museums provided by Google and its six new Chinese art partners.
Google Culture Institute unveiled its six Chinese partners on Sept 4 in Beijing, posting online 48 collections of Chinese art with more than 1,400 artworks, one of the biggest online exhibits in Asia since the institute's launch in 2011.
These online exhibits include works ranging from Chinese relics dated back 3,000 years to traditional Chinese paintings of master painters and to contemporary art by top Chinese artists like Xu Bing and Fang Lijun.
The six Chinese institutions joining Google include Sanxindui Museum in Shanxi, Art Museum of China Academy of Art, Today Art Museum, the archival Chinese Modern Contemporary Art Document, Pokfulam Village Cultural Landscape Conservation Group in Hong Kong and the Opium War Museum in Dongguan, bringing the Internet giant's total of Chinese art partners to nine.
Launched in 2011, the culture institute includes the Google Art Project, featuring online exhibits from museums across the globe, the World Wonders Project and archive exhibitions.
According to institute director Amit Sood, Google has partnered with more than 500 museums in over 60 countries. The yearly number of Web visitors has reached 19 million, with the number of visitors from China ranking fourth while the United States generates the most clicks.
With the large-scale exhibits from China going online, the number of artworks from Asia now nearly equals that from European countries and the US combined.
Sood says the institute has been eager to include Chinese art since 2011, adding that the current nine parters are just a start and Google welcomes more players in the future.