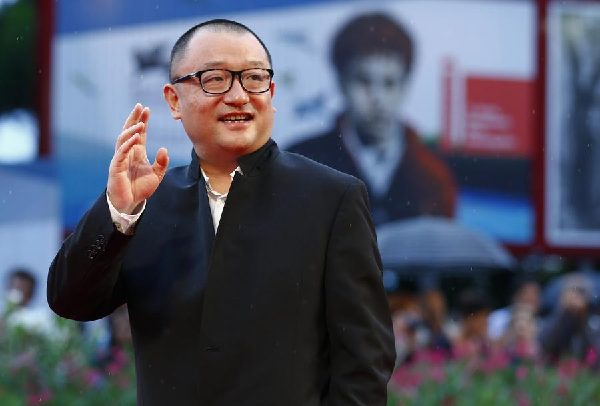 Director Wang Xiaoshuai attends the red carpet for the movie "Chuangru zhe" (Red amnesia) at the 71st Venice Film Festival September 4, 2014. [Photo/Agencies]
TORONTO -- For Chinese filmmakers, it remains a big challenge to make successful art-house films in a market saturated with commercial works, a Chinese director has said.
That is why Chinese art-house films are often appreciated internationally only, Wang Xiaoshuai told a discussion panel at the Toronto International Film Festival on Tuesday.
"The thing in China is when you make a film, you'd better not say it's an art-house film. If you do, it will die," said Wang, who came to Toronto for his film "Red Amnesia."
Another disadvantage is that there are only limited screen days for art-house films in China as commercial works always dominate theaters.
"One weekend, and for a whole day, you may have two screens. So nobody goes to (art-house) films. So it seems to prove your film has no audience."
Even the internationally awarded "Black Coal, Thin Ice" got lukewarm treatment from domestic film distributors, he said.
Another panelist, Isabelle Glachant, a Beijing-based film producer, agreed and said changes are in urgent need.
"Maybe it needs to be controlled a little more, depending on times it's screened. There has to be rules," she said. "There will be films put in theaters if there's space for those films and people will go back to cinema."
Despite the obstacles, Wang said he will continue to do what satisfies him artistically, and make more Chinese audience in favor of these types of films.
The success of his art-house film brings him hope. His noir thriller opened in China on March 19 with unexpected box office success, earning $12.8 million in its first two weeks of showing.
It proved that there are people who want to see art-house films, Wang said. "But how to link them together -- the audience, directors and producers? I'm sure the chance is there, the space is there...Just give us time."