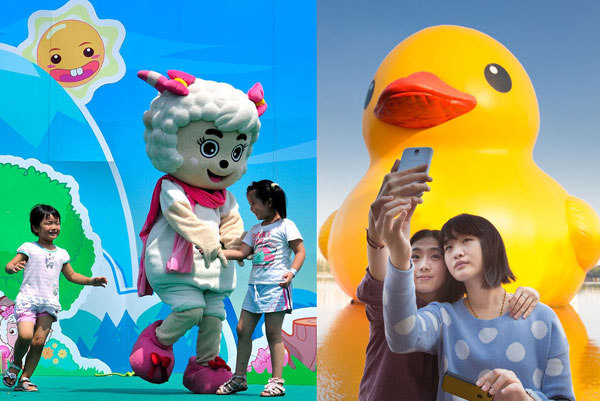 [Photo/IC]
NOORDWIJK, the Netherlands -- When Huang Weiming, creator of the most popular Chinese cartoon figure "Pleasant Goat" met with Florentijn Hofman, Dutch designer of the world touring "Rubber Duck" at the China-Netherlands Cultural and Media Forum here Thursday, the potential of cooperation in the creative industry between the two countries was brought into the spotlight.
"The 'Rubber Duck' has travelled to 23 or maybe 25 places in the world, Brazil, China, France, America, etc ... I lost account. I designed it in 2001 as a global project and it became a global project. I didn't expect it to be so popular. I think the great success behind the project is in its subjects of happiness and connection," Hofman told the press.
"Even if you have war, or you lost someone, everybody connects with the yellow cute duck and becomes happy," he said.
For Huang, whose "Pleasant Goat and Big Big Wolf" TV series has run 10 seasons with 1500-more episodes in the past 10 years, bringing happiness and warmth to all ages of audience is also a starting point of creation.
His play is centered on the interdependent hate-love ties between goats and wolves. Apart from TV series, seven movies have been produced, all released in the Chinese New Year period, hitting a cumulative box office of over 800 million yuan (about 129 million U.S. dollars). The Wolf couple and the Goats family formed of "Pleasant Goat", "Lazy Goat", "Fattie Goat", "Beauty Goat" and other members, have turned to be Chinese children's cartoon favourites.