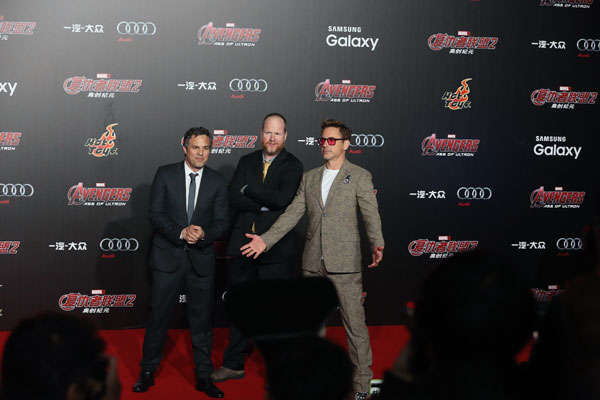 Director Joss Whedonin (center) teams with Robert Downey Jr (right) and Mark Ruffalo in Beijing to promote The Avengers: Age of Ultron. The film will hit Chinese mainland theaters on May 12. [Photo by Jiang Dong/China Daily]
The director and two key cast members of the hit superhero film franchise are reluctant to be drawn on box-office takings, but are open to the idea of filming in China. Xu Fan reports.
It has been filmed in Bangladesh, Britain, Italy, South Korea and the United States, so the idea that the next installment of The Avengers may be filmed in China is not that far-fetched.
"I would love to shoot in China," says director Joss Whedon. The director was in Beijing recently to promote the latest installment of the film franchise, The Avengers: Age of Ultron, or The Avengers 2.
Two other big names behind the smash hit, Robert Downey Jr (who plays Iron Man), and Mark Ruffalo (who plays The Hulk), seemed equally enthusiastic at the idea of a China shoot.
The comic-book-inspired The Avengers 2 opened in 44 film markets outside North America last weekend. It trumped Fast and Furious 7 to top the global box office, taking in $201.2 million yuan in three days.
The film, a sequel to The Avengers (2012), the third-highest-grossing movie in history, will hit cinemas on the Chinese mainland on May 12.