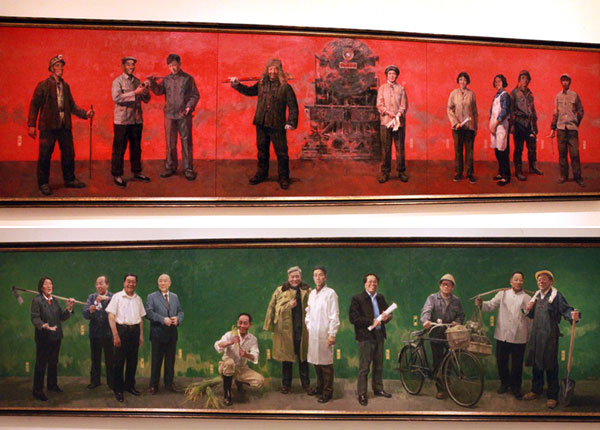 [Photo provided to chinadaily.com.cn]
As Workers'Day draws near, a show of large-scale portraits of model workers selected from the past 60 years lifted its curtain on April 26 in the National Museum of China, showing respect to model workers in all walks of life.
Entitled Leaders of the Time, the show made model workers alive on paper. Some figures depicted were already passed away while some are living. On display were five large-scale paintings, three oil paintings and two Chinese paintings. The longest one was up to 16 meters. All the 60 model workers depicted in pictures were selected from more than 250,000 model workers voted by people since China's founding in 1949.
On canvas are model workers from the 1950s such as oil driller Wang Jinxi, who devoted all his life into the development of China's oil production. There are also model workers of scientists like Yuan Longping who helps expand the production of rice fields and Jiang Zhuying, a well-known optical scientist. Standing with them are ordinary workers in daily life, such as the first female train driver in China and a hard-working shopper.
Well-known artists and professors from China Academy of Fine Arts spent half a year on these huge paintings. "The show offers us a chance to learn from these model workers. It's a good platform to show Chinese dream advocated by the entire society," said Feng Shuangbai, general secretary of China Literature and Art Foundation, which organized the show. The show will last through May 6 and then tour other cities around China.