Lisbon on a plate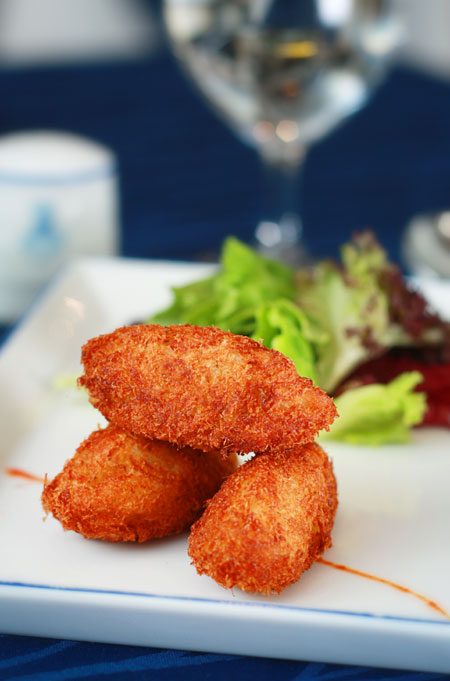 Salted codfish [Photo provided to China Daily]
Portuguese food is less-known across China than other European fare, but a transplanted chef is eager to change that in Beijing. Liu Zhihua tucks in for a tasting.
When Portuguese chef Paulo Quaresma came to the Chinese capital nearly five years ago, one of his first customers was rather disappointed. The Chinese guest ordered Portuguese chicken and was bewildered by what Quaresma served, insisting the dish was not what he expected.
Traditional Portuguese chicken, the chef says, is a whole chicken marinated and barbecued with white wine, olive oil, lemon and spices like chilies, bay leaves and garlic. What the customer expected, Quaresma founded out later, was flavors such as coconut, curry and other ingredients from Southeast Asia that Portuguese people do not use - perhaps because many Chinese people get their impression of Portuguese food from Macao, which was a Portuguese colony until it was returned to China in 1999.
Like many European chefs who come to Beijing, Quaresma faces the challenge of expectations - some customers seeking the absolute original cuisine, others looking for adaptations to Chinese tastes. But unlike many Italian, French and Spanish chefs, Quaresma has the chance to give customers something unexpected: He's the only Portuguese chef working in a Portuguese restaurant in Beijing, he says.
The small Portuguese community in the capital has fewer than 100 people, and there are few authentic Portugal restaurants on the Chinese mainland, which accounts for why few Chinese people have tasted authentic Portuguese food, he says.
"I was surprised at first, but not now," says Quaresma, executive chef at Camoes Portuguese Restaurant in the Legendale Hotel. He says he has never regretted the decision to leave his home country.
When Chinese people eat Portuguese cuisine while they travel to Macao or abroad, in most cases the food has been altered to appeal to locals, he says.