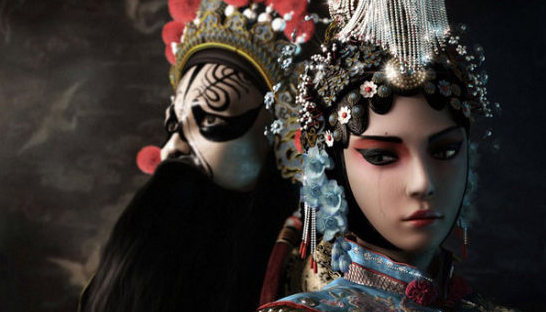 A scene from the 3D film Farewell My Concubine. [Photo/Agencies]
The first Chinese film using native 3D technology to capture the art of Peking Opera, Farewell My Concubine, premiered in Shanghai on May 5.
The 3D adaptation, based on the classic love story between the legend of Xiang Yu and his beloved concubine, Yu Ji, combines traditional Chinese culture and modern technology, according to director Teng Junjie.
"By including a high-tech and modern touch, audiences can appreciate the beauty of Peking Opera while enjoying the story from their own perspective," Teng said.
"When heroes in the film throw knives at the screen, audiences feel the weapon flying towards them. When Yu Ji performs with Xiang's sword, the audiences feel like they are dancing alongside her. (With 3D technology)Viewers are more engaged in the story, and not just watching the film as outsiders," Teng said.
The 3D film has been criticized for using modern technology solely for the purpose of pocketing box office sales, and downgrading the essence of the traditional performing art.
"Using the latest technology is the best way for younger viewers to appreciate traditional culture," Teng responds.
Two lead roles are filled by 75-year-old veteran performer Shang Changrong and rising star Shi Yihong.
"I've shot many Peking Opera films, but it was my first attempt at a 3D film. I think the most beautiful moments of the art of Peking Opera were captured and the actors delivered their finest and most exquisite performances on screen. Peking Opera is going abroad through the most modern media. I'm looking forward to that," Shang said at the premiere.
Shi said she hopes the movie can draw global attention to Chinese art.
Farewell My Concubine made its international debut in Hollywood at the Dolby Theater on May 30, 2014 and was given an award for "Live Broadcast Music Entertainment" by the International 3D and Advanced Imaging Society in January this year.
Related:
3D opera films wow
Beijing
film fest