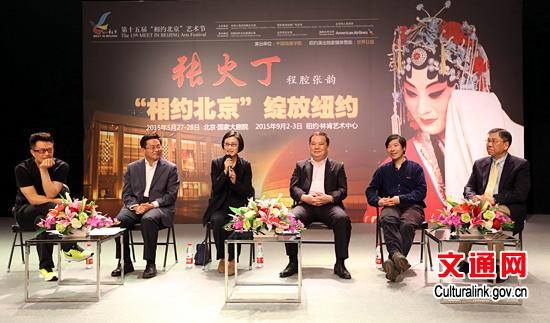 Zhang Huoding communicates with other guests at the press conference.[Photo/Cultralink.gov.cn]
The Chinese Peking Opera Suolin Purse will be featured at the closing ceremony of the 15th Meet in Beijing Arts Festival. Zhang Huoding, who plays the main character, will later make her debut at the Lincoln Center for the Performing Arts in New York City in September.
As a classical opera of the Cheng School, Suolin Purse narrates the life of a charitable girl, who goes through a series of ups and downs.
The Cheng School, one of the four famous schools for dan (female) roles in Peking Opera, was created by Cheng Yanqiu in the first half of the 20th century. Famous for its intermittent singing style and frequent changes in rhythm, this style is believed to best reveal the character's inner world.
Zhang Huoding, master of the Cheng School in the modern world, is proficient at expressing people's emotions and thoughts by integrating acting, singing, speech and acrobatics in opera.
In order to promote Chinese high culture to the world, Zhang will also show Lady White Snake to the American visitors. The two operas are vital programs for Sino-US cultural exchanges.
As a kaleidoscope of arts and culture, the 15th Meet in Beijing Arts Festival commenced on Apr 23 and will last for more than five weeks.
The US, as the main guest of honor, will present outstanding performances during the festival.