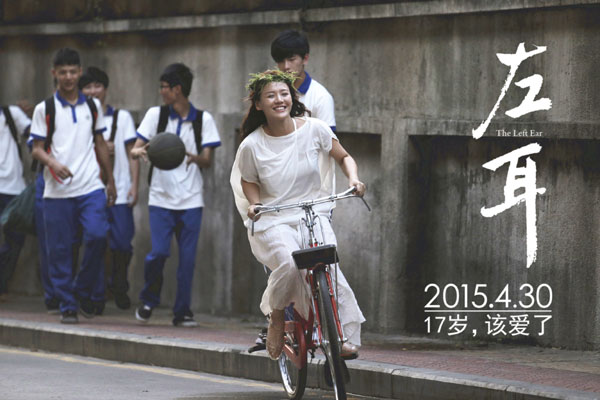 The Left Ear, the directorial debut of Taiwan idol-turned filmmaker Alec Su, is among the top box-office winners during the May Day holiday. [Photo provided to China Daily]
Ticket buyers take films unpopular with critics to the top of the box office during the recent three-day holiday. Xu Fan explores why.
Hollywood filmmakers may find the world's second-largest market increasingly looking like a maze.
Commonly in a mature movie industry, giant budgets and good stories secure the box office. However, the dark-horse Chinese blockbusters that galloped to the top during the recent May Day holiday have upended all the rules to win a "surprising" market.
Silent Separation, featuring a seven-year romance marathon of two college students, won only 3.5 points out of 10 on Douban.com, one of the country's largest film review websites.
The Left Ear, adapted from the namesake best-selling novel, features a 17-year-old's rosy dream of having a lover whisper sweet words into her deaf left ear, amid the grueling youth years. It scored at an average 5.5 of 10 on several major film review sites.
Though harshly slashed for the "badly piled" storylines and coarse acting, both youth-themed movies were adapted from best-selling novels, and have performed well at the box office.
On the first day of the May Day holiday, Silent Separation, the 60-million-yuan ($9.67 million) romance film brought in 78.9 million yuan to overtake the $250-million Hollywood blockbuster Fast and Furious 7 and top the mainland box office.
During the following two days, Silent Separation slumped a bit but stuck to the No 2 spot - and was back on top again on Monday.