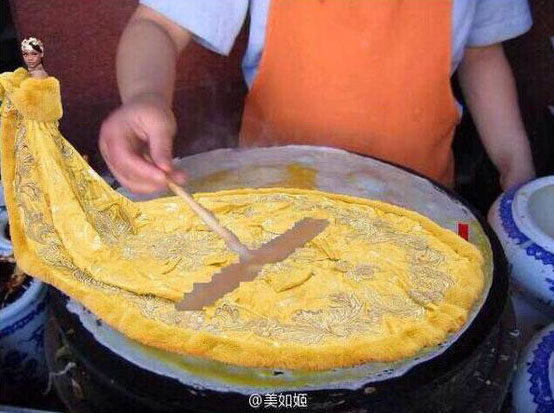 A photoshopped image makes fun of Rihanna's dress by comparing it to a Chinese-style pancake. The pop singer opted for the dress tailor-made by Beijing-based designer Guo Pei at the Met Gala in New York City, May 5, 2015. [Photo/weibo.com]
When Hollywood royalty took to the red carpet at the Metropolitan Museum of Art's Costume Institute Gala, or Met Gala on Monday, they may have been earnestly interpreting the Chinese theme of the event in their bold fashion choices.
But little did they know, their outfits would cause the Chinese Internet to explode with amusement.
The vast difference between how the outfits were received in the West as opposed to in China itself goes to show how China gets "lost in translation" in the West.
Singer Rihanna and actress Sarah Jessica Parker became the major inspirations for Internet memes that swept social media as the Chinese Internet passed merciless and creative verdicts on their outfits – largely seen as examples of "trying too hard" – on one of the biggest fashion nights of the year.
Rihanna opted for imperial yellow, the royal color of China's dynastic past, intending to evoke royalty, and completed the whole look with a sparking tiara that made her look more exotic. Instead, she reminded Chinese Internet users of one of the most popular snacks in China – jianbing, or Chinese pancake.
As soon as Rihanna's yellow cape with floral swirls was revealed, Chinese Internet users instantly came up with remixes that photoshopped the outfit into a Chinese pancake or a pizza, inspired by the shape of the dress' long train which required three staffers to help her walk.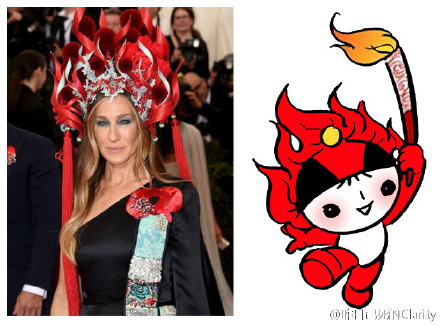 A post on Sina Weibo shows US actress Sarah Jessica Parker's headdress next to Huanhuan, one of the 2008 Beijing Olympics mascots. The Sex and The City Actress appeared at the Met Gala donning the Philip Treacy headdress in New York City, May 5, 2015. [Photo/weibo.com]
Sex and The City actress Parker didn't do any better. For Chinese fans of the hit HBO show, she will always be Carrie Bradshaw, the epitome of chic, metropolitan style. Sex and the City's Carrie would have reigned at Manhattan's biggest fashion night, but her over-the-top "Chinese" headdress caused snickers instead.
Her red headpiece did remind netizens of a Chinese icon, though perhaps not a particularly elegant one – Huanhuan, one of the 2008 Beijing Olympics' adorable cartoon mascots.