The question of cultural representation
As the frenzy of memes and comments dies down, the massive misrepresentation of China in the fashion of the night prompts soul-searching of how, exactly, China should be represented to the West.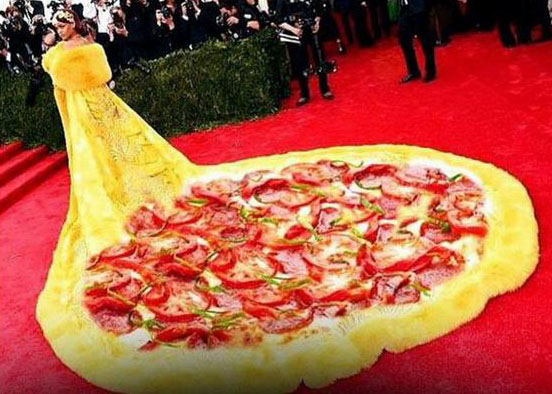 A photoshopped image makes singer Rihanna's dress look like a pizza. The pop singer opted for the dress tailor-made by Beijing-based designer Guo Pei at the Met Gala in New York City, May 5, 2015. [Photo/weibo.com]
After all, the 2015 Met Gala, held at the museum in New York City, was designed to shed light on Chinese cultural and artistic influence on fashion with the theme of "China: Through the Looking Glass".
But can the idea of "China" really be boiled down to sequins, embroidery and Chinese painting motifs? Is that the extent to which China's influence on fashion can be seen?
Parker may have an excuse – the mocked headdress was by non-Chinese Philip Treacy, one of Britain's best known milliners, but Rihanna wore the sartorial work of Beijing-based designer Guo Pei.
In contrast with its reception on the Chinese Internet, the dress actually made Vanity Fair website's best dressed list.
It seems that even a Chinese designer finds it hard to please her countrymen when presenting the culture of her country to the West.
That the theme, China: Through the Looking-Glass, references the 1871 fantasy novel by Lewis Carroll, may give a clue as to how there came to be such a gap between East and West – the Western perception of China is still very much filtered through the lens of fantasy, a wonderland in their own minds, rather than the actual East Asian country itself.
Related:
Bold and colourful prevail at Met Gala for fashion's big night out
Met Gala 2015 highlights Chinese influence on fashion