Chinese theme piqued interest
If not for the China theme, the Manhattan night would only have commanded the attention of fashion pundits.
Unlike in the West, where their every sartorial move is scrutinized in the media, even fashion A-listers like Rihanna and Parker seldom make headlines for their wardrobe decisions as they are not as well-known here.
It was undoubtedly because their outfits were supposedly "Chinese" that they garnered this degree of attention on social media.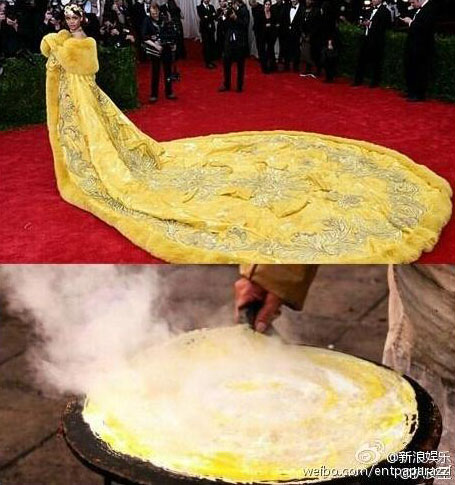 A photoshopped image makes fun of Rihanna's dress by comparing it to a Chinese-style pancake. The pop singer opted for the dress tailor-made by Beijing-based designer Guo Pei at the Met Gala in New York City, May 5, 2015. [Photo/weibo.com]
China's two most popular social networking tools - Twitter-like microblogging site Sina Weibo and instant messaging app Wechat – were awash with posts explaining basic facts of Met Gala and snapshots of the red carpet moments.
Ordinary Chinese people may not be able to name any song by Rihanna, or know anything about her alleged romance with actor Leonardo DiCaprio, but they could still pitch in to create the online sensation that made her pancake-like dress one of the night's most memorable looks.
In keeping with the theme, the exclusive guest list included a Chinese delegation, comprising of actresses and singers led by Gong Li and Zhang Ziyi.
The Chinese contingent earned kudos from their countrymen by dressing "normally", the highest compliment that could be paid to them on a night dominated by near-nudity and absurdity.