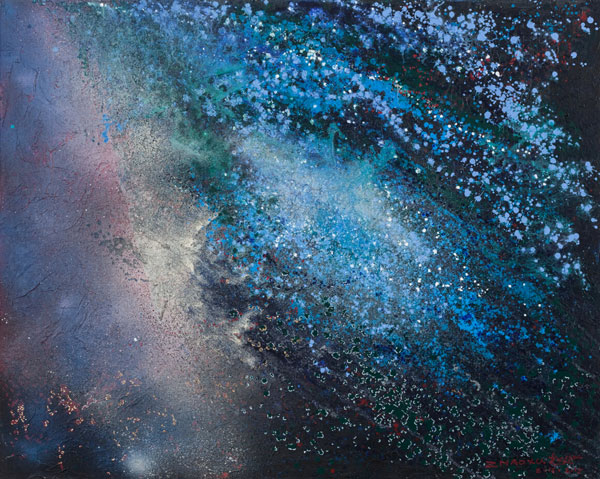 [Photo provided to chinadaily.com.cn]
Zhao Xu, the son of the noted ink-and-water painter Zhao Zhunwang, is better known as the head of Beijing Poly International Auction.
But before he became a successful art dealer, Zhao was a diligent painter himself, and his solo exhibition is currently on show at the Poly Art Museum. The exhibition displays a dozen abstract paintings in which Zhao, a graduate of a Beijing-based vocational art school in 1988, created imaginative landscapes of the universe.
He executed most of the works between 2012 and 2015. He said the Chinese art market cooled down at the time, and hence he returned to painting to relieve stress. He continued the motif of the cosmos that he had touched upon in the early 1990s.
He also reproduced some of his past works. Zhao said he is much inspired by Wu Guanzhong's (1919-2010) approach to painting. It was not until 2004 when he saw Jackson Pollock's (1912-56)works at MOMA that he found Pollock's influence on Wu.
Thus he studied Pollock's art and experimented to incorporate Pollock's treatment of dots and lines with ink-and-water techniques. The exhibition lasts until May 6.