Exploring Napa Valley in China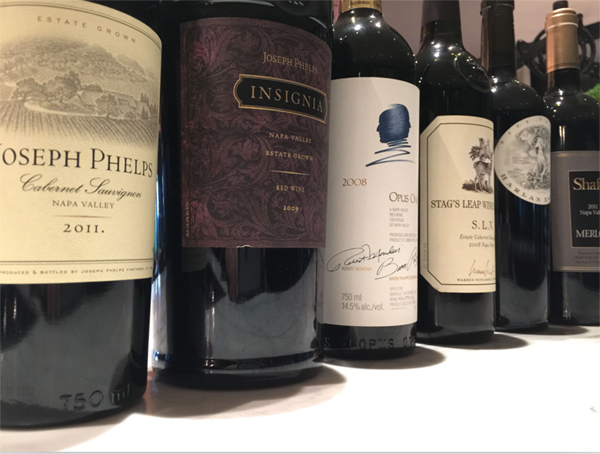 A lineup of Napa Valley classic reds in the wine room at the Rosewood Beijing. Mike Peters / China Daily
Wines from California's best-loved wine region are easy to find in China, though even some of the most well-heeled oenophiles have yet to discover it.
"For many, Napa Valley is synonymous with Californian wine," says Charles Sow, sommelier at Temple Restaurant Beijing. "Napa is also perceived as the standard bearer for quality American wine. Though the USA has a long history of growing wine back to (Spanish settlements in) the 1500s, America's currently flourishing wine industry only dates back to the 1960s.
"I love Napa wine," says Matthew Myers, assistant director of food and beverage at the Rosewood Beijing hotel. Myers lived in the Napa Valley town of St. Helena for about a year, discovering many intriguing vintages while working to launch a fine-dining restaurant there.
"Many of the most classic wines of Napa are distributed in China," he says, citing Joseph Phelps, Opus One and Shafer as must-haves for top hotels and restaurants here. "But some of the top wines you'll find everywhere in San Francisco – Sonoma, Paso Robles, are not represented here yet.
"There are good cabernets and merlots – the Bordeaux-style blends," he adds, "but we're still waiting to get Russian River pinot noirs, for example."
Many Chinese see Napa wines as comparatively expensive, he says.
"We have customers who will spend 12,000 to 18,000 yuan on wines in an evening," he says, "but they are very price savvy. Unlike in the US, in China they can buy the same wines directly from the same distributors we do, so our business model can't rely on big mark-ups on wine. To attract wine lovers here for dinners and events, the wine has to be more competitively priced – we offer other luxuries to deliver a complete five-star experience."