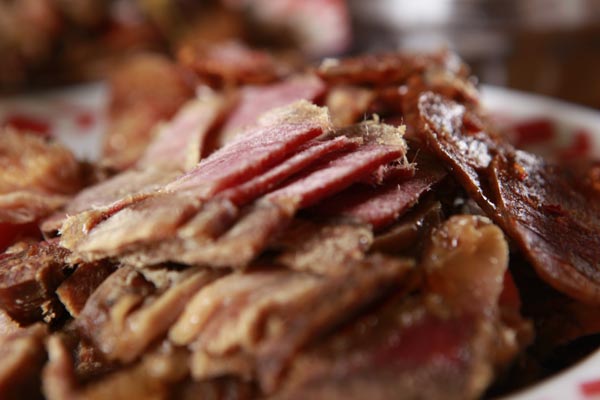 The show aims to let the whole world understand China through its delicious food. [Photo provided to China Daily]
China Central Television's phenomenally successful show, A Bite of China, is expected to return for a third season in mid-2016, with shooting to start in September.
The new series will look at Chinese food culture from a global perspective. Shooting will take place in countries such as Canada, Italy and Peru, where historical connections with Chinese food can be found and interesting comparisons will be drawn between Eastern and Western culinary traditions, according to chief director Chen Xiaoqing. Renowned Hong Kong-based food critic Chua Lam, who has years of overseas experience, will be an adviser for the new season.
"The point is to let the whole world understand China through its delicious food," Chen says.
Given the wide criticism that the documentary's second season focused too much on people stories rather than the food itself, Chen says the new season will "tell more stories of food than people".
Up to 14 original documentaries are also expected to be aired on CCTV9, the state broadcaster's bilingual documentary channel, in the coming year. Highlights include Kung Fu Shaolin, a rare take on how Chinese martial arts has evolved, and The Bond, which looks at the development of Chinese studies overseas by visiting Sinologists.
At CCTV9's media briefing on Tuesday in Beijing, special mention was given to Doing Business with the World. The documentary focuses on the lives of Chinese doing various kinds of business in 12 different countries in an attempt to explore their general understanding of wealth and dreams.
Since its launch in 2011, CCTV9 has become the country's most-watched documentary channel. Some 28 percent of the documentaries shown on TV in the Chinese mainland every year are aired through CCTV9, according to statistics from market research company CTR, a Sino-British venture. The channel is widely recognized for licensing famous productions from overseas and more importantly, regularly running high-quality local documentaries.
Beijing Normal University's China Documentary Development Report 2015, found that 45 percent of documentaries shown on Chinese TV last year were local productions.
Some Chinese-made documentaries are exploring ways to go abroad. In 2014, CCTV licensed 2,000 hours of documentaries to be broadcast in 81 countries, and Beijing-based cultural agency China International Communication Center aims to distribute 100 hours of documentaries overseas every year.