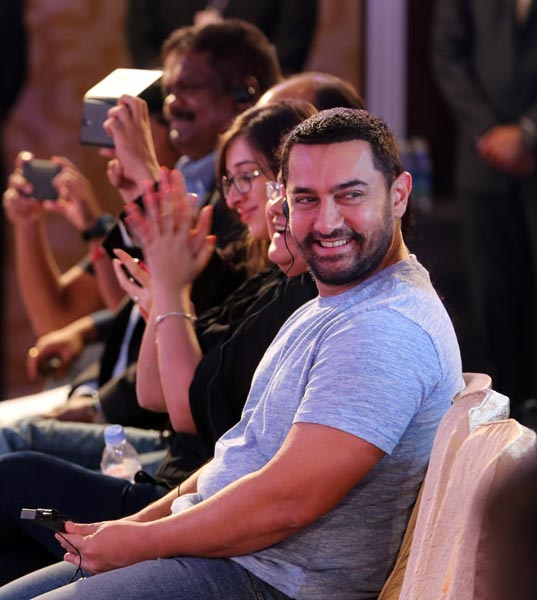 Bollywood star Aamir Khan visits Beijing to promote his sci-fi movie PK, which will be screened on the mainland on May 22. [Photo by Jiang Dong/China Daily]
India's highest-grossing movie of all time, PK, is set to hit theaters on the Chinese mainland on May 22, and with it, Bollywood is expected to throw a challenge at Hollywood's dominance of the country's movie market.
The Hindi sci-fi comedy narrates the story of an alien's visit to Earth and his struggles with understanding people and their quirks, and the hunt for his spaceship remote, which is stolen after he lands in India.
The movie was released in India in December and expanded to 6,000 screens worldwide, raking in box-office takings of 3 billion Indian rupees ($46.8 million) in the Indian market and another $100 million globally.
Bollywood superstar Aamir Khan stars as the lonely alien, who gets named "PK" in India. The movie's title is derived from "pee kay", a northern Indian slang for liquor-fuelled behavior.
At a media conference to promote the movie in China, Khan, who is on his first trip to the country, says of his expectations from the Chinese box office: "I never feel sure about my films' (box-office) performance. I do it just because I love it. I can't predict if people will love it or not."
Khan, a celebrity in India who selects movie scripts wisely, said on Tuesday in Beijing that he followed his heart with this one, too.
Many Chinese moviegoers are familiar with Khan's face owing to the success of 3 Idiots, a 2009 Hindi movie on India's education system that resonated with young Chinese.
In PK, his character is initially misunderstood by local people due to his "weird" behavior and then by chasing a greedy religious guru for the stolen remote of his spaceship that returned to his fictional planet after dropping him off to Earth.
Taken by most critics as a biting satire on some religious practices in India, the movie faced some protests in that country.
"The film is not against religion, but against the exploitation of religion in different ways, (such as) by making money through it," Khan says.
"It (PK) says that you can be the maker of yourself, and you don't need someone else to tell you what to do and how to do (it)."
Earlier, numerous Hollywood blockbusters have featured extra-terrestrial beings, but many of them have been scary invaders of the Earth. This is where PK picks up a fresh angle to depict outer space creatures.
During the initial days of shooting for the movie, Khan says he started to think of himself as someone exploring a strange planet.
The movie has been watched by many Chinese using video streaming sites, and has scored on an average 8 out of 10 points on several major movie review websites.
A Chinese version of PK is being dubbed by rising actor Wang Baoqiang, known for his grassroots roles in comedies, and will be released in 2-D formats on the mainland soon.
While 3 Idiots took two years to be officially introduced in China after its release in India, PK took just five months to be cleared for general screening on the mainland.
The movie's distributors attribute this to the two countries' boost in cinematic collaborations.
A movie cooperative agreement was signed during President Xi Jinping's tour to India in September.
Each year, China allows 34 foreign movies to be shown in the country's theaters.
It may be a golden time for Bollywood to compete with Hollywood in the booming Chinese market, which grossed 29.6 billion yuan ($4.77 billion) last year.
The rising quality of Hindi movies' storytelling and action stunts have increased its appeal among foreign viewers but the large number of song-and-dance sequences still remain a drawback, critics say.
"Among the more than 1,000 movies produced by India every year, only a few have gained in popularity in overseas markets," says Chen Tao, deputy head of Institute for Cultural Industries of Peking University.
The Indian action-heist comedy Happy New Year, released on Feb 12 in mainland theaters, had an hour's worth of content cropped to make it more compact for Chinese audiences.