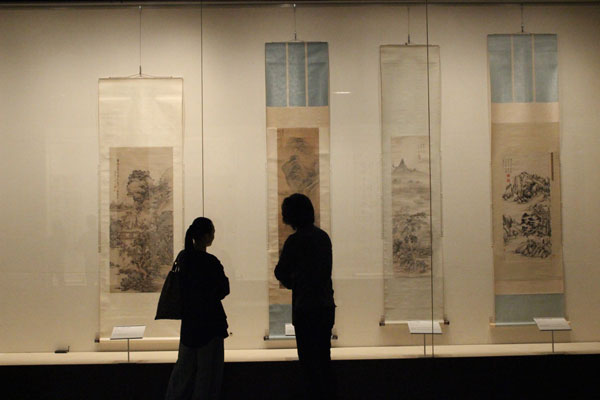 Imperial collections including dynastic paintings and calligraphy works are on show at Palace Museum's Hall of Martial Valor. [Photo by Wang Kaihao/China Daily]
The Hall of Martial Valor (Wuyingdian) in Beijing's Palace Museum is re-opening after months of winter-season rest.
The re-opening not only indicates the beginning of the peak tourist season, but also lifts the curtain on a new round of exhibitions.
The show, Dynastic Paintings and Calligraphy in the Palace Museum Collection, will display 68 ancient treasures. The display is split into three parts: from the 3rd to the 14th century, the Ming (1368-1644), and the Qing (1644-1911) dynasties.
"Each exhibit is carefully chosen to be the most representative, and each part demonstrates changing styles and form from the new schools within each historical period," says Wang Hu, the exhibition curator from the museum's painting and calligraphy department.
A 7th-century facsimile of Lanting Xu (Preface to the Poems Composed at the Orchid Pavilion) is the highlight among the calligraphy exhibits. The original work written by Wang Xizhi (AD 303-361) is generally considered the best-known work in Chinese calligraphy history, but its whereabouts is a mystery.
The facsimile is from Chu Suiliang, one of the best calligraphers from the early Tang Dynasty (AD 618-907). More than 200 seals and comments from later dynasties' collectors, including a poem from 11th-century painting and calligraphy master Mi Fu, are inscribed on the work.
Gaoshi Tu (Noble Couple), the best-known work of 10th century court painter Wei Xian, is among the key painting displays this time.
The Palace Museum, also known as the Forbidden City, was China's royal palace from 1420 to 1911, and thus has many imperial collections. It houses 53,000 paintings and 75,000 calligraphy works. However, limited exhibition spaces and high safety standards meant most of them were unseen by visitors for years.
If you go
8:30 am-5 pm, daily except Mondays through June 29. Palace Museum, 4 Jingshan Qianjie, Dongcheng district (entry via the south gate). Its entry tickets cost 60 yuan ($10), and ticket sales stop at 4:00 pm. The exhibition is at Hall of Martial Valor (Wuyingdian) with no extra charge.