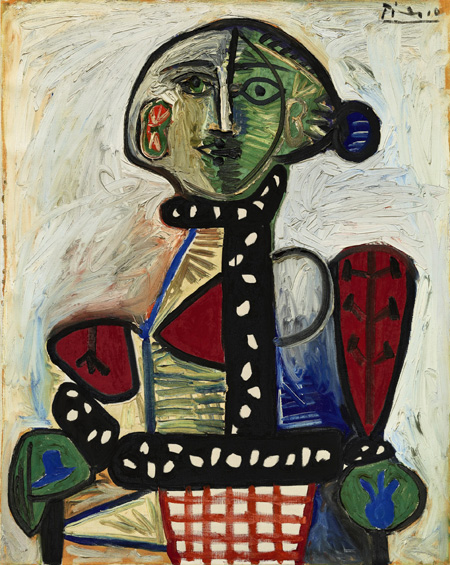 Femme au Chignon Dans un Fauteuil by Pablo Picasso has been sold for $29.9 million. Wang Zhongjun / For China Daily
Chinese movie mogul Wang Zhongjun paid $29.9 million for a Picasso painting auctioned off from the Goldwyn family collection at Sotheby's in New York on Tuesday.
Femme au Chignon Dans un Fauteuil (Woman with a Hairbun on a Sofa) was painted by Pablo Picasso in 1948 and is a portrait of his lover Francoise Gilot. It was acquired by the late Hollywood film producer Samuel Goldwyn in 1956.
Wang, quoted in an after-sale news release by the auction house, said: "I first fell in love with the painting and then I fell in love with its story. The Goldwyn family is legendary in our industry, and in this one work, I can see not only Pablo Picasso's genius, but also Samuel Goldwyn's creative vision."
His last spending spree was a Vincent van Gogh painting, which he acquired for $61.8 million at Sotheby's in New York in November.
Wang, a 55-year-old Beijing native, is chairman of the Huayi Brothers Media Group, which has produced several movie blockbusters.
Asian art collectors, especially those from the Chinese mainland and western Asia, have generated skyrocketing prices at auctions worldwide. Their collecting enthusiasm has expanded from homegrown art to Impressionism, cubism, pop art and contemporary art.
High-profile Chinese businesswoman and collector Zhang Lan spent $10.5 million on an Andy Warhol work and $18.6 million on a Martin Kippenberge portrait at a Christie's sale in New York in May of last year.
Chinese buyers spent $2 billion at Christie's last year, accounting for 22 percent of the auctioneer's international sales. Sotheby's saw a 19 percent increase last year in the number of Chinese buyers, who spent $1 billion in its salesrooms worldwide.
Patti Wong, chairman of Sotheby's Asia, said established Asian collectors "are now reacting with great enthusiasm to an ever-broader range of Western art", and "it's thrilling to see these clients' tastes and interests expanding".
While some applaud Chinese buyers changing their focus in collecting art, others say they overpaid.
In 2013, Dalian Wanda Group paid $28.1 million at Christie's for Picasso's portrait of his two children. Guo Qingxiang, who manages the company's art collection, said, "We buy the best art at decent prices. Under the sluggish situation of Western art market, the artworks are offered at acceptable prices — that's why we made the purchase."