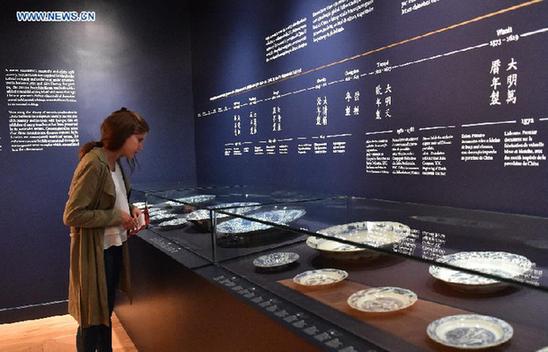 A woman visits an exhibition of porcelain plates of ancient China's Ming and Qing dynasties at the National Museum of Ancient Art in Lisbon, capital of Portugal, May 9, 2015. [Photo/Xinhua]
A rare collection of 60 Chinese porcelain plates being on display at the National Museum of Ancient Art in Portuguese capital Lisbon is evidence of long history of commercial and cultural ties between Portugal and China since the early 16th century.
For the first time, the exquisite Chinese porcelain plates have been taken out of a total of 263 pieces from the ceiling and walls of the Porcelain Room of the former Santos Palace, a royal palace.
The Lencastre family, one of Lisbon's noble and leading families purchased the palace in 1629. They were later decorated between 1664 and 1687 by Jose Luis de Lencastre.
The former palace, now under restoration works, has been home to the French Embassy in Portugal since 1909, which collaborated with the National Museum of Ancient Art in Lisbon to hold the exhibition.
The plates are delicate, classical pallets of cobalt-blue and white, with elaborate flower designs, dreamy wild animal and landscapes, bringing the visitors back to the the Ming Dynasty of China (1368-1644) in the early 16th century.
The collection forms a representative sample of the Ming Dynasty and there are also a dozen pieces by the Qing dynasty (17th and 18th centuries).
The collection is also reminiscent of Portugal's commercial and cultural connection to the far away China when Portuguese navigators launched their oceanic journey around the globe at that time.