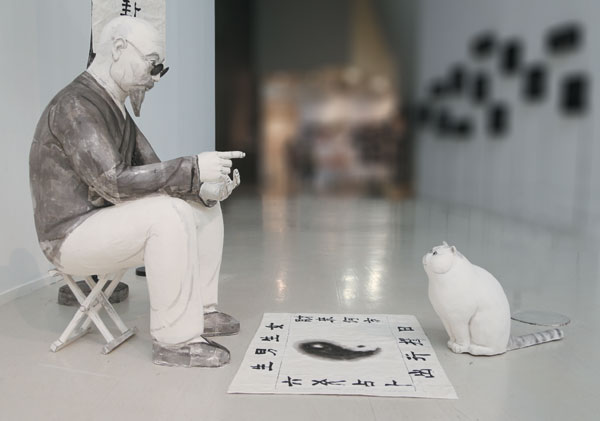 Young artists employ crossover approaches in their works on display at the show Yan Zhan in Beijing. [Photo provided to China Daily]
Liu Sizhao speaks in the manner of an eloquent gallerist while explaining to viewers his mixed-media artworks on show. The postgraduate student at Beijing's Central Academy of Fine Arts believes clothes are as important for an artist's public image as is the person's creativity: He wears a well-fitted suit and a floral-patterned white shirt, with a pocket square, to his exhibition.
Many of his peers go to the venue in casual outfits.
Liu's work, Hundred Birds Painting, is displayed among some 400 artworks by CAFA students, who will receive their master's degree and doctorate in June. The works of various media are on show on four floors at the school's art museum and some public space outside.
The main part of Liu's work is a floor-to-ceiling oil painting across four canvases. In vibrant hues, he presents a scene of birds resting on a tree. He was inspired by refined Song Dynasty (960-1279) paintings. He gave it an additional modern touch, with the help of two projectors that cast images of birds on the painting. Liu created one based on handmade paintings and the other on an iPad.